Lea Salonga revealed how she will be a presenter at the 2021 Tony Awards.
The singer-actress made the announcement on Twitter last Friday, September 24.
"The cat's out of the bag! I'll be presenting at the [Tony Awards] on Sunday!!!"
She also quote-tweeted the official announcement of the award-giving body from its official Twitter account.
Apart from Lea, other celebrities attending the Tony Awards include John Legend, Darren Criss, Jake Gyllenhaal, Lin Manuel-Miranda, and Idina Menzel, among others.
The awards ceremony will be hosted by Audra McDonald and Leslie Odom Jr.
However, this is not the first time Lea will be presenting at the event. She presented last 2017 alongside Jon Jon Briones.
They introduced the performance of Miss Saigon which was nominated for Best Revival at the time.
Back in 1991, Lea bagged the Tony Award for Best Actress in a Musical for her performance as Kim in Miss Saigon.
Lea, then, went on doing more iconic plays on Broadway, including Les Misérables, Allegiance, and Once on This Island.
The 74th Tony Awards will take place at the Winter Garden Theater in New York on Monday, September 27 (Sunday, September 26, US Time).
We cannot wait to see you, Ms. Lea!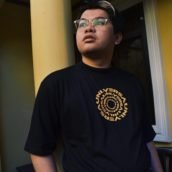 Kobe Adam Joshua Laurena
Kobe Adam Joshua Laurena is a writer who loves to tell stories from the perspectives of different people and everyday life. Apart from the pen, he loves to pick up the lipstick to transform into his frustrated drag persona: Anita Good Lovin'. He aspires to combine his love for writing and drag by creating a novel, short story, or screenplay about local drag queens in the future. He also has an obsession with sitcoms, women's pro-wrestling, and Funko Pops.