All of us are hoping to go back to the way things are, during those times that COVID-19 did not exist yet. We were free to travel, go to events, and commute without the fear of contracting the deadly virus. Obviously, we are getting weary about the news of fatalities, bankruptcies, and joblessness. Will our country achieve success in flattening the curve soon?
The hope to flatten the curve
Yesterday, a member of a research group from the University of the Philippines said that the country might see a flattening of the curve of coronavirus disease infections soon. Even though the government reverted Metro Manila and four nearby areas to GCQ, there's still a chance for us. It is still possible to lessen the infections by the end of August or in September.
According to Dr. Guido David of the UP OCTA Research Team, there was a bigger chance to minimize coronavirus cases by the end of August if the MECQ continued Metro Manila and nearby provinces. He explained during an interview, "Sa ngayon umaasa tayo na kaya pa rin 'yan, katapusan ng August pwede maflatten 'yung curve, pero kahit mga September siguro na mangyari 'yan, okay lang din, maflatten natin ang curve slowly." Dr. David noted that although we were able to flatten the curve, it will still take one to two months before it becomes very manageable.
As of Sunday, the total number of COVID-19 cases in the country has reached 189,601. Out of this number, there are 131,367 are recoveries and 2,998 deaths.  Aside from that, the Department of Health reported 2,378 cases as an addition to the total number. Allegedly, this is the lowest single-day spike of new cases in August. The experts say that it is a great indication of lesser new cases here in the Philippines.
The UP OCTA Research Team also saw that the DOH is recording lower cases of infection recently. Dr. David added, "Noong one week ago pa, nakikita namin bumababa na 'yung trend sa buong Pilipinas, 'yung reproduction number. Pati na sa National Capital Region bumababa na rin 'yung r-naught natin. Ngayon halos malapit na sya sa 1. Ibig sabihin medyo malapit na tayo magflatten ng curve."
There's no assurance yet in these predictions but this is still a piece of good news, right? What do you guys think?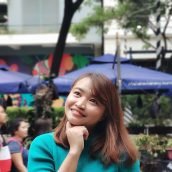 Queenie Lastra
Queenie Lasta got her bachelor's degree in Communications Research from UP Diliman. In her free time, she likes to read thriller novels, psychology books, and mangas. She believes in the importance of grit, hard work, and passion to become a great writer in the future.