South Korean psychological thriller Squid Game is a nine-episode Netflix show that gets your heart racing, even from watching the first episode. The plot revolves around a series of games with 456 players competing against each other in life-or-death childhood games.
Why did Jung Ho Yeon became more famous?
Squid Game also had veteran actors and fresh faces among its casts, including Jung Ho-Yeon. The young actress plays the role of Sae-byeok, a North Korean defector.
Sae-byeok survives by pickpocketing and entered the competition out of pure desperation. She has a goal to reunite with her brother who is staying in an orphanage, and her mother who's still stuck in their home country. For me, Jung's portrayal of the character Sae-byeok was certainly outstanding and realistic. She managed to show a lot of emotions such as pain, frustration, bitterness, angst, and desperation without overacting.
Before Jung became a Netflix discovery, she was already popular as a high fashion model. She has been doing modeling since the age of 16. In fact, she was a runner-up in the 4th season of Korea's Next Top Model. The show launched her career in fashion, leading to appearances in various runway shows like Seoul Fashion Week.
Since Squid Game premiered, the actress/model has gained millions of Instagram followers. The number increased 30 times! From 400,000 followers, it became 12.6M in just two weeks. She even beat Song Hye Kyo and now ranks top 2 in terms of Instagram following.
Jung Ho Yeon may also be on track to catch up to Lee Sung Kyung, who holds the title of most-followed Korean actress with over 12.9 million followers.
We think that Jung Ho Yeon left a remarkable performance in the Squid Game series. Let's hope that we'll see her stunning face more on upcoming Netflix shows!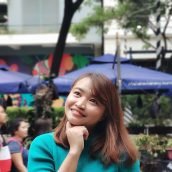 Queenie Lastra
Queenie Lasta got her bachelor's degree in Communications Research from UP Diliman. In her free time, she likes to read thriller novels, psychology books, and mangas. She believes in the importance of grit, hard work, and passion to become a great writer in the future.