Tenderbites has made a name for itself as one of the Philippines' quality producers in the meat industry.
With different choice cuts such as lean ground beef & pork, Angus steaks, and baby back ribs, it will surely give meat lovers a hankering for their favorite meat.
Having a lot of choices for their customers, orders from Tenderbites will surely be worth it for every customer.
A business out of friendship
Village Pipol got to speak with Nolo Avanceña, the founder and general manager of the quality meat shop.
First, he recalled how the idea of Tenderbites came to be, which started one day back in 1990.
He recounted starting the business with his high school friends, saying,
"Back in 1990, a group of thirty-somethings who've been friends since high school wanted an excuse to get together regularly for drinks and hang out. They decided the best way was to start a business."
Thus, Tenderbites came to life, with its name coming from the hard work they put in making a quality product.
"It's a good way to express the result of all the hard work that goes into making a quality product. Everything we do should result in a tender, tasty cut of meat."
Also, Nolo explains why he and his high school friends chose meat as their primary product in their business.
He said one member of the business circle owned a ranch, having been familiar with the meat-making process.
Their best sellers, according to them, are meat you cannot find at your average meat shop.
"Lean ground beef and pork (99% fat-free), all-natural and no-preservative breakfasts like Muscovado longganisa, imported Baby Kenchi for the best soups and stews. But also long-time favorites like baby back ribs, Premium Country Style liempo, and USDA Angus steaks.
Bespoke butchers
When asked what makes Tenderbites shine from other meat shops, Nolo tells us that they cut meat exactly how the customers want it, just like the butchers in New York City.
"We're actually bespoke butchers. We'll cut and pack your meat exactly how you want it. How big do you want those salpicao cubes? How thick do you want your Angus steaks? Do you want them individually vacuum-packed? We've got you covered. So we have more in common with butcher shops in places like [New York City] than we do with meat shops here."
However, a business won't be a business without struggles.
Nolo recalls how Tenderbites expanded already in its early stages. However, it caused a decline in quality control.
This allowed him and his business partners to recalibrate their focus on what matters the most.
"Adding more than 15 outlets in the span of 18 months caused a sharp decline in quality control and we almost went bankrupt. We had to down-size back to around 4 stores and refocus on our processes, company culture, and values. It also helped us identify our target market more clearly — people who value excellent quality and a great customer experience."
Providing quality meat and livelihood
Moreover, Nolo believes Tenderbites' best moments were when they provided livelihood to many people in need.
"Making a difference in the lives of the people who work for us by providing challenging, fulfilling work at a good wage. Our company is all about relationships, whether it's with employees, suppliers, or sukis. We have employees who have been with us from the beginning, through the good times and bad. Some are even second-generation — their parents worked at Tenderbites."
Lastly, when asked if he has any messages for their supportive customers, Tenderbites expressed extreme gratitude towards them.
"Our sukis are the reason that Tenderbites exists, we can't thank them enough for their support and patronage. For future customers, we hope they'll give us a chance to provide them with what we like to call the Total Suki Experience. Everything should be top-notch, from buying the meat to serving it to family and friends."
The verdict
Village Pipol got the opportunity to have some of the best-sellers from Tenderbites.
The meat shop sent us their lean ground beef and pork, ribyeye sukiyaki, special Muscovado longganisa, and tocino.
As I opened the package sent to me, I loved how tightly packed the three meat products were in plastic.
This prevented some meat from falling out while in transit and maintained their quality while in travel.
The next day, I had the tocino and special Muscovado longganisa for breakfast.
As the two were my all-time favorite Filipino breakfast items, I had high expectations from two of Tenderbites' best-sellers.
With a side of garlic fried rice, I first ate the tocino. I was delighted by the sweetness it had to offer.
However, its sweetness was something unique, veering away from the usual taste of popular tocino brands.
On the other hand, the longganisa was the perfect contrast for the tocino.
Its meaty, salty taste contrasted with the tocino's distinctive sweetness, making my overall breakfast experience an enjoyable one.
Overall, I can definitely say that Tenderbites offers high-quality meat, even just with the two meat items I ate.
The meat shop prides itself on the best of the best standards in the local meat industry, making them one of the best meat providers in the country.
For inquiries and orders, visit Tenderbites' official website.
They deliver around Metro Manila and have 9 physical locations in the Metro, which you can check out here.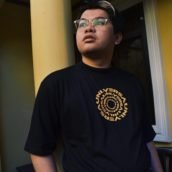 Kobe Adam Joshua Laurena
Kobe Adam Joshua Laurena is a writer who loves to tell stories from the perspectives of different people and everyday life. Apart from the pen, he loves to pick up the lipstick to transform into his frustrated drag persona: Anita Good Lovin'. He aspires to combine his love for writing and drag by creating a novel, short story, or screenplay about local drag queens in the future. He also has an obsession with sitcoms, women's pro-wrestling, and Funko Pops.