Karen Davila reacts to her viral leaf blooper from her TV Patrol comeback
Karen Davila became a trending topic after her comeback in the news program TV Patrol last Monday, October 11.
This came to be during the end of the episode's broadcast. A leaf landed on her face during the anchors' outro.
The broadcast journalist did her reporting duties outside the Dolphy Theater, an open area in the premises of ABS-CBN.
Her co-anchors Henry Omaga-Diaz and Bernadette Sembrano did their duties in the TV Patrol studio and another part of the ABS-CBN building, respectively.
As Omaga-Diaz delivered his spiels, Davila smiled at the camera while a leaf landed on her face.
However, she kept calm, maintaining her poise on-cam.
Turning over a new leaf
A Twitter netizen named @gerviccespinar first noticed the blooper and posted it on his social media account.
Davila quote retweeted the video, saying she literally turned over a new leaf during her comeback.
On Tuesday, October 12, Davila reposted the video on Instagram, writing as the caption,
"Literally turning over a new leaf Mahangin lang talaga sa labas lol. Have a good day everyone! Christmas is around the corner. See you later on [TV Patrol]."
She received amused comments from celebrities, including impersonator-host KaladKaren, actress-host Heart Evangelista, and actor-host Ryan Agoncillo.
Last Monday, October 11, marked Davila's comeback on TV Patrol as a permanent anchor.
From 2004 to 2010, she had reporting duties as an anchor until ABS-CBN reformatted the program in celebration of their 25th anniversary and marking the comeback of Noli De Castro, who finished his term as vice president at the time.
Davila returned to the show after De Castro left TV Patrol to run for senator in the upcoming 2022 national elections.
Apart from her leaf blooper, Davila made an Instagram post about her first day back on the program.
She wrote,
"The first day of a new chapter for TV Patrol. I am back after 11 years. Grateful to those who have come before us. Through the brightest days & darkest times, nandito pa rin kami, nagbago lang ang mga bantay pero matibay pa rin ang TV Patrol dahil po sa inyo."
TV Patrol has been on the air since March 1987.
How amused were you regarding Karen Davila's leaf blooper? Let us know!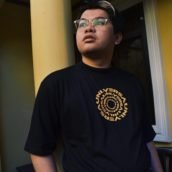 Kobe Adam Joshua Laurena
Kobe Adam Joshua Laurena is a writer who loves to tell stories from the perspectives of different people and everyday life. Apart from the pen, he loves to pick up the lipstick to transform into his frustrated drag persona: Anita Good Lovin'. He aspires to combine his love for writing and drag by creating a novel, short story, or screenplay about local drag queens in the future. He also has an obsession with sitcoms, women's pro-wrestling, and Funko Pops.