Bea Alonzo gives a tour of her classy taping van that looks like an airplane cabin!
For celebrities, long hours of tapings for commercials, movies, and TV series can be so draining. This is why many of your favorite Pinoy artists have decided to invest in a taping van.
A lot of celebrities in the Philippine showbiz industry had already spent huge amounts for their luxurious customized vans. As part of their hectic schedules, they need to be always on the go. Also, they need to make sure that they can still get enough comfort to prepare themselves for their next showbiz engagements.
First taping van ever
Iconic actress Bea Alonzo has been in the industry for around 20 years now. However, she only decided to give herself a taping van only recently. Last Saturday, Bea uploaded a video tour of her latest investment, so her YouTube subscribers can get a peek.
Bea Alonzo's new van is a Ford Transit. Based on Ford's official website, this is a 15-seater car and it is currently priced at PHP 1.9 million. But with the customizations, the Kapamilya-turned-Kapuso actress possibly had spent a whole lot more.
A refuge away from COVID-19
During her vlog, Bea explained that the pandemic pushed her to buy her own taping van. She added that she never really felt like I needed one since they quickly transfer to their own tent whenever they arrive at the set.
"Until nagkaroon ng COVID. And feeling ko, ngayon, it's become a necessity para sa trabaho namin because we go to a lot of different places…
Since there's still a possibility of getting sick from COVID-19, Bea feels that she needs a special place that could be her refuge away from the virus and away from everybody. She also emphasized that we still need to practice social distancing.
Aside from these reasons, Bea said that she also used the van every time she goes to her farm in Zambales.
"And kahit na pag pumupunta ako sa farm namin, it's like five hours away from Manila, ayoko na sana yung bababa pa ako ng gasoline station to use the restroom, only because there is the pandemic that we are facing, ano."
In her vlog, we observed how Bea is so particular about sanitation and cleanliness. In fact, she required everyone to sanitize themselves first before they can enter the van. To prevent contamination, she included an acrylic organizer, box, and sanitizing kit.
Inspired by Etihad Airways' business class cabins
In her vlog, the actress revealed how she really dreamed of airplane cabin-like interiors for her van. To make it look spacious, Bea decided to remove all the seats inside. She only put two custom massage car seats that look similar to Etihad Airways' business class cabins.
The captain's seat has its own retractable table. Bea also had a pull-out seat installed in front of it, which also serves as her meeting area.
There's also a pull-out seat that doubles as a leg rest any time Bea feels like taking a short nap. The actress also equipped this van with smart features such as the virtual assistant Alexa. She makes use of this feature to control the blinds and some of the lights.
Bea added,
"I'm so kilig about that kasi matagal ko nang gusto. I've seen some artista na meron niyan inside their van. For fun. I know, hindi naman talaga kailangan na kailangan. But it's something that I really want for fun. I'm not guilty about it."

See Also
In front of the driver's is the media control system. This is also where her mini-fridge is located. Below this, there's a coffee station because everyone needs a kick of caffeine for those times you need to stay awake.
Meanwhile, the Kapuso star also installed a smart TV and WiFi inside her new van so she can watch her favorite shows on Netflix. She can also check the status updates of her vlogs during her downtime or every time she's not doing anything on set.
In addition to this, Bea placed a microwave oven inside the van to makes sure she can reheat her food. The actress pointed out that it can be an added protection from the virus since reheating cuts the risks of contamination.
Being so organized, Bea also installed at least 5 overhead compartments. She uses them to store her utensils, scented candles, medicine and first-aid kits, velvet hangers, and snacks.
The space behind the captain's seat also serves as Bea's changing area. She has her own clothing rack where she often tries out her outfits before putting them on. Another amazing thing about Bea's cabin is her own toilet and bath, both fully functional.
We think that Bea really deserves this kind of luxury. After all, she worked so hard for the money she spent on this. Her practical and wise attitude about investments can be an inspiration to many women out there to be go-getters.
What do you think of Bea's new van? Let us know in the comments below!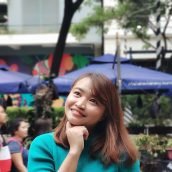 Queenie Lastra
Queenie Lasta got her bachelor's degree in Communications Research from UP Diliman. In her free time, she likes to read thriller novels, psychology books, and mangas. She believes in the importance of grit, hard work, and passion to become a great writer in the future.