Sharon Cuneta admits being torn between two family members aiming to become Vice President in the 2022 elections.
Her husband, Senator Francis "Kiko" Pangilinan, filed his candidacy as the running mate of Vice President Leni Robredo.
On the other hand, Sharon's uncle, Senator Vicente "Tito" Sotto III, will be running for the same position.
A happy but heavy heart
The Megastar shared her reflections on Instagram on Tuesday, October 12 after returning from her vacation in the United States.
She revealed she comes home happy, but with a "heavy heart."
"Two men I greatly love – one whom I have known since birth, and the other, one I exchanged solemn vows with twenty-five years ago, are about to vie for the second-highest position in the country, and once again, I do not know what I could have done so wrong to find myself in the midst of two rocks. What could I, can I do?"
After the elections, Sharon hopes for healed wounds and love would prevail.
"I pray that after this game called politics is over, that wounds are healed, loved ones do not doubt your love for them, and I and my sisters, especially, the only family I have left besides my own, find our way back to one another's arms, unscathed and free of the pain our battlescars have brought us. It is most difficult for us in the periphery, who never imagined we would be in this position."
Moreover, she concluded her post by asking for prayers from her followers as she goes through the situation.
"May God bless us all. May God help me through this trying period. Please pray for all of us…"
Her supportive daughter
Prior to Sharon's reflective post, her daughter KC Concepcion expressed support for Pangilinan's bid last Friday, October 8.
Furthermore, she wrote,
"Your love for family and country is genuine and true. Thank you for all the things that you do. This is our family's biggest milestone yet."
As the election draws near, make sure to register to vote!
Recently, the Commission on Elections (COMELEC) announced an extension of voter registration from October 11 to October 30.
What do you think of what Sharon has been going through? Let us know!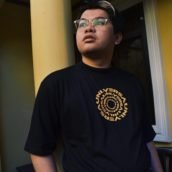 Kobe Adam Joshua Laurena
Kobe Adam Joshua Laurena is a writer who loves to tell stories from the perspectives of different people and everyday life. Apart from the pen, he loves to pick up the lipstick to transform into his frustrated drag persona: Anita Good Lovin'. He aspires to combine his love for writing and drag by creating a novel, short story, or screenplay about local drag queens in the future. He also has an obsession with sitcoms, women's pro-wrestling, and Funko Pops.