ZARA BGC faces backlash after alleged discrimination of a trans woman
Photo from Louis Marasigan (Facebook)
Multinational clothing brand ZARA is reaping criticisms sown by allegations of discrimination inside its local branch, cries a Filipino transgender woman.
Last October 19, trans woman Louis Marasigan took to Facebook to speak up about claims of unfair treatment she experienced at ZARA. In its chain store in BGC in Taguig, Marasigan narrated how she fell victim to the prejudice of its staff due to her gender.
"ZARA BGC, this would be the last time I will ever buy clothes from your store. 2022 na, I never felt so discriminated in my whole life, in a place pa where you won't expect."
Marasigan said it was a typical day shopping for clothes with her sibling. She went inside the women's fitting room to try them on, but an employee came and wanted her to move. They implied that she should go upstairs instead, locating where the fitting room for men is.
When Marasigan questioned the gesture, the staff argued that other female customers might complain. Thus, she and her sibling looked around, only to find no one else was there. It seems to be that the complaint was an excuse, and the real issue was her gender all along.
Marasigan ended up buying the clothes without trying any of them. Although, while at the cashier, she raised her concern again that the manager would take notice.
"Nang pinatawag niya 'yung manager, ito 'yung nakakatawa, gay din— part ng LGBT. Then sabi niya paglapit, na-receive niya daw 'yung complain. Akala ko makakarinig pa ko sa kanya, like pagsasabihan (o) pangangaralan niyang hindi tama 'yung ginawa sa akin."
However, all the manager did was ask if the situation was over, offering no intention to help and leaving the problem unresolved. Marasigan then documented her experience in a clip that has gone viral with almost 40k engagements to date.
As a result of the now controversy, netizens expressed different reactions. While several sided with the store, many advocates stood by Marasigan to defend their rights. On the other hand, ZARA is yet to make a statement to address the issue.
Looking back, countless similar instances occurred like this before, yet the narrative was unchanging. Others whine in discomfort and wail for respect in their unshakable belief. But why do very few hear the whimper for acceptance despite the loud, echoing inequality?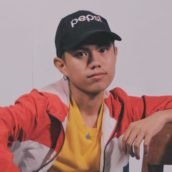 Renzneil Robles
Renzo is an introvert who prefers to do things at his own pace. Unlike most writers, he reads lazily. Watching Korean dramas at night is his constant source of comfort. Although oftentimes commended for being outspoken, he speaks better through writing than with his words.