Pinoy pride! SB19 got nominated as Top Social Artist for Billboard Music Awards
People recognize SB19 as the first-ever Filipino boy group to train under a Korean entertainment company. Also, they've been gaining recognition online for their superb dance and vocal skills. This time, this popular boy group is making quite a history as it joins BTS and BlackPink in Billboard awards!
Making another mark  in the international music industry
The P-pop supergroup SB19 is one of the finalists for the top social artist in the 2021 Billboard Music Awards (BBMA). It's the first Filipino to entering the ranks of global artists with this nomination. They joined the top 5 list which includes BLACKPINK, BTS, Ariana Grande, and SEVENTEEN.
According to Billboard.com, the finalists and winners are based on numerous factors related to fan interaction. The committee and its data partner track album and digital song sales, streaming, radio airplay, and social engagement.
SB19 members expressed their gratitude on their official Twitter account as they thank their countless supporters for helping them achieve their success. They said:
"WE MADE IT, A'TIN! We are nominated for Top Social Artist of this year's Billboard Music Awards We are so grateful for your love and support We wouldn't have come this far without all of you. A'TIN 'TO! Iwawagyaway ang WATAWAT! #SB19forBBMAs."
SB19 deserve fame and recognition with all of their efforts
To quickly recall, this Pinoy group is composed of five members, namely: Josh, Pablo, Stell, Ken, and Justin. With their hard work and dedication, they were able to enhance their dancing and vocal skills. Based on their profile on Spotify, they are currently training under ShowBT. Apparently, this is a Korean entertainment company that branched out in the Philippines.
Furthermore, SB19 has gone through three years of diligent training known to K-pop idols.
We clearly see the fruits of their labor in their performances. In a TV interview, Josh told that they have nine-hour vocal and dance training every day, with a one-day break per week. It was even intense when they are rehearsing for a single. Their group practices the choreography 30 times a day and even has a target of practicing the dance 1,000 times.
Just last month, SB19 launched their latest anthem titled "What?" and it's mainly about the importance of self-love and empowerment to fans. Their music video already received more than 8.7 million views as of this moment.
The 2021 Billboard Music Awards will air on May 23 from the Microsoft Theatre in Los Angeles on NBC. We are quite hopeful that SB19 will win as the Top Social Artist.
Are you guys also rooting for them to win?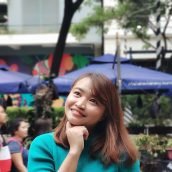 Queenie Lastra
Queenie Lasta got her bachelor's degree in Communications Research from UP Diliman. In her free time, she likes to read thriller novels, psychology books, and mangas. She believes in the importance of grit, hard work, and passion to become a great writer in the future.