You have possibly seen them all over the Internet already: gender swaps of your online friends. Yes, I'm talking about the faces of your friends transforming into a hot hunks or gorgeous babes. It all happens because of the FaceApp, a photo editor that allows users to create different looks on their selfies. It can make them look younger or older, add a smile, and apparently change their gender too. Since it has a pretty realistic effect, the app became viral here and in other countries.
Pinoy celebrity gender swaps
And as we Filipinos thrive in humor, there are also face swaps of Pinoy celebrities that also gained the attention of netizens. The post from Kapamilya World Online grained traction with its collection of these amazing 'transformation' of celebrities. It includes the young generation's loveteams like KathNiel, LizQuen, JaDine among others. Moreover, there were also gender swap photos of veteran actors and actresses. Here are some few examples:
Do we need to worry about using FaceApp?
The app editor also faced some serious issues, including one US senator who has called for an investigation of the app. The worries root from the fact that the FaceApp's server uploads and processes the selfies of its users. Aside from that, the app allegedly uploads the user's entire camera roll on the server. However, online experts did not find any evidence to support those claims.
To clarify things, FaceApp founder Yaroslav Goncahrov released a statement regarding these security concerns. He said that user data is not transferred to Russia and that "most of the photo processing in the cloud." He added further, "we only upload a photo selected by a user for editing. We never transfer any other images from the phone to the cloud. The FaceApp CEO guaranteed that they do not sell or share user data with any third parties."
Goncahrov also noted users can request for data erasures. To do this, you can go to the app's settings, then find the support tab. Under it, there's an "opt to report" a bug. Just use the word "privacy" as your title of your subject.
With these facts in mind, it's really important to be wise in using the internet nowadays. As many apps and technologies can entertain us, we still should keep in mind the old adage, "Think before, you click".
What are your thoughts on this one?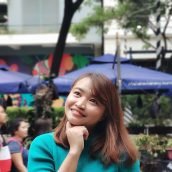 Queenie Lastra
Queenie Lasta got her bachelor's degree in Communications Research from UP Diliman. In her free time, she likes to read thriller novels, psychology books, and mangas. She believes in the importance of grit, hard work, and passion to become a great writer in the future.