The innocent smile from their children is one of the treasures of every parent out there. So, it must be truly heartbreaking for those parents whose children are born with cleft lips.
Treating one child's cleft doesn't just transforming one life
Children with cleft lips, with or without a cleft palate, or a cleft palate alone often have problems with feeding and speaking clearly. They can also have ear infections, hearing problems, issues with their teeth.
Catriona Gray believes that cleft lip surgery is more than transforming one's physical appearance. For the Miss Universe 2018, it can change an individual's outlook in life. On her Instagram, the beauty queen proudly posted a photo of a young mother, Anastasia, and her baby, Gracie. Catriona lovingly carried the African child and described her as a beautiful little girl. She added the caption,
"When people think of cleft treatment, one may think of just the physical transformation for a single child. But Anastasia and Gracie's story opened our eyes to see that it is so much more than a change on the surface."
Catriona also narrated how Anastasia experienced social stigma when she gave birth to Gracie. According to the mother, her friends would discourage her and even tell her to give her daughter up. Yet, Anastasia said that she 'always looked at her daughter with love'.
After that, Anastasia and her family moved to her great-grandmother's place. There, she saw people who are more supportive and caring, such as church members and neighbors. A few months after their relocation, Anastasia discovered Smile Train Africa.
A story of overcoming social stigma
Now, Gracie became a beneficiary of this organization. She is just awaiting her cleft palate surgery. The beauty queen believes that Gracie is "well on her way to developing into a capable little girl with a life of opportunity ahead of her."
Gray emphasized on her note,
"She's even going to school! A reality that many children with a cleft are unable to realize,"
Catriona explained that Anastasia and Gracie have a story of overcoming. Anastasia overcame many things, including stigma, judgment, and negativity. And it was sll for Gracie. She also added that it's also a story about how lives are changed by the people who are in it.
As a call to action, she urged those who know kids and individuals with untreated cleft lip or palate to refer them to Smile Train Africa's website and social media pages, Smile Train Africa and Smile Train.
Catriona Gray is truly a great model for empathy, kindness, and altruism. We wish that more people will be aware of her advocacies!
Isn't she quite inspiring?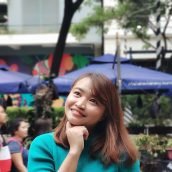 Queenie Lastra
Queenie Lasta got her bachelor's degree in Communications Research from UP Diliman. In her free time, she likes to read thriller novels, psychology books, and mangas. She believes in the importance of grit, hard work, and passion to become a great writer in the future.