Rachel Peters gives birth to first child
Rachel Peters and her husband, Camarines Sur Governor Migz Villafuerte, have welcomed their first child.
Last Wednesday, October 13, Migz posted a photo of their newborn on his Instagram account.
He wrote,
"I'm so in love with you. To God be all the glory,"
On the other hand, Rachel posted a photo of their baby lounging in their home on her Instagram Stories.
Migz's father, Camarines Sur 2nd District Representative LRay Villafuerte commented on his son's post, saying,
"Thank you, Lord, for a beautiful baby girl! Such a blessing!"
Celebrities, including Nadine Samonte, Dani Barretto, and Phoemela Baranda, gave the couple congratulatory messages.
Last 2017, Rachel bagged the title of Miss Universe Philippines. She represented the country in the Miss Universe pageant the same year.
She finished the competition as one of the Top 10 semifinalists.
See Also
Rachel announced her pregnancy last May 2021 by posting a topless photo of herself by the beach saying,
"18 weeks of growing and loving you. You're a dream come true our little chickpea."
She tied the knot with Migz in a civil wedding at the Supreme Court last July 2021.
Congratulations, Rachel Peters and Migz Villafuerte!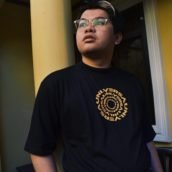 Kobe Adam Joshua Laurena
Kobe Adam Joshua Laurena is a writer who loves to tell stories from the perspectives of different people and everyday life. Apart from the pen, he loves to pick up the lipstick to transform into his frustrated drag persona: Anita Good Lovin'. He aspires to combine his love for writing and drag by creating a novel, short story, or screenplay about local drag queens in the future. He also has an obsession with sitcoms, women's pro-wrestling, and Funko Pops.