Catriona Gray and Sam Milby have been enjoying the sights of Mauritius, a country in East Africa.
Last Monday, October 4, the Miss Universe 2018 posted Instagram photos with the actor, enjoying a breathtaking view from a waterfall.
Catriona wrote,
"Enchanted by the Seven Cascades of Mauritius. It was raining the entire drive over, but as soon as we came to the last part of our hike and stepped out to the head of the Waterfall, the sun came out and blessed us. God showing off all His beautiful creation,"
In another post, she shared a "definite highlight" from the trip: the Seven Coloured Earths which are sand dunes with seven distinct colors.
"A definite highlight of the trip so far: the seven colored dunes formed over millions of years and created by oxidized minerals in the earth,"
One photo saw Catriona and Sam getting comfortable with each other with the dunes in the background.
Last Friday, October 1, the beauty queen teased her first on-screen project with Sam on Instagram.
The couple has yet to share more details about the project, but, evidently, traveling will be a huge part of it.
Moreover, Catriona and Sam first confirmed their relationship last May 2020.
Despite being open about their relationship, the two kept their moments together lowkey on social media, except for a few special occasions.
We cannot wait to see where you will fly next, Catriona and Sam! Have a safe and enjoyable trip.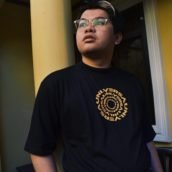 Kobe Adam Joshua Laurena
Kobe Adam Joshua Laurena is a writer who loves to tell stories from the perspectives of different people and everyday life. Apart from the pen, he loves to pick up the lipstick to transform into his frustrated drag persona: Anita Good Lovin'. He aspires to combine his love for writing and drag by creating a novel, short story, or screenplay about local drag queens in the future. He also has an obsession with sitcoms, women's pro-wrestling, and Funko Pops.