Spotify finally gets real-time lyrics feature for you to sing along
Getty Images
Remember those times that you love to listen to some songs but can't really remember the lyrics to sing along with it? We're glad to say that Spotify is rolling out a new feature that allows you to see real-time lyrics on selected songs!
Spotify enabled the real-time lyrics in selected countries only
This development comes after several users requested on the Spotify community page. They asked the streaming music platform to create a lyrics feature on the mobile version of the streaming app. Spotify confirmed the release of real-time lyrics and launched it to 26 markets. The list is consists of the following countries: Argentina, Brazil, Colombia, Chile, Mexico, Peru, Bolivia, Costa Rica, Dominican Republic, Ecuador, Guatemala, Honduras, India, Nicaragua, Panama, Paraguay, El Salvador, Uruguay, Vietnam, Philippines, Indonesia, Malaysia, Thailand, Taiwan, Singapore, and Hong Kong.
With this new feature, you can see some lyrics like on the karaoke. Aside from that, you can get info about the song such as the inspiration behind it and interesting facts.  Four years ago, Spotify started working with Genius on its "Behind the Lyrics" feature. This feature shows background information about selected tracks, alongside the lyrics themselves. It's an interesting feature, but this background information gets in the way if you just want to sing along with a song.
When playing a song, just slide your finger up from the bottom to reveal the lyrics. It will occupy just half of the screen but you can tap on it to go full screen. If you're using an iPad, tap the album artwork on the side menu. Spotify noted that if you don't see the lyrics, it's not available for the song.  There are new lyrics and stories are added to Genius every day, so you may find it added in the future.
Excited to try it on your music-streaming sessions? Go ahead and sing-along!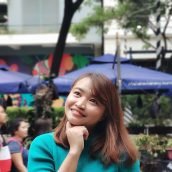 Queenie Lastra
Queenie Lasta got her bachelor's degree in Communications Research from UP Diliman. In her free time, she likes to read thriller novels, psychology books, and mangas. She believes in the importance of grit, hard work, and passion to become a great writer in the future.