Technology is changing the way we consume information and entertainment, and many people are ditching pricey cable TV subscriptions. Many are now shifting to streaming platforms like Netflix and Disney Plus.
A love letter to the queer community
And just recently, there's a new show on YouTube with its inspiring and refreshing approach to pop culture. We are talking about a show under the Boys' Love genre titled, "Gaya sa Pelikula"! This web series started during the last week of September and it was able to sustain the interest of several viewers.
The writer of Hintayan ng Langit, Juan Miguel Severo, is the one who also wrote for this one. Meanwhile, the director for this series is JP Habac from I'm Drunk, I Love You. What made Gaya sa Pelikula charming is that it can give you kilig and rom-com moments. But more than that, it aims to show complicated representations of the queer community.
This web series is Globe Studio's attempt at this kind of venture. Thankfully the LGBTQIA+ community supported, conceptualized, produced, and starred this one.
With just three episodes launched so far (and each one with a 21 to 29-minute run time), you won't have a problem catching up. Get ready to discover the story of Karl (Paolo Pangilinan) and Vlad (Ian Pangilinan). Here's the synopsis:
Why do people think 18-year-olds are all sure of what they want to do in life?
Karl will be 19 soon and he's still as unsure as he was in high school. He is taking architecture but he's not happy with it. His blockmates are nice, but he feels out of place when he's with them. He's sure he's living someone else's life and his own is still somewhere out there, waiting for him to find it…
A motorcycle stops outside the dorm building. A drunk upperclassman alights the ride, enters the building. It's way past curfew. Karl is ready to sleep after crying over a movie but the drunk upperclassman is being rowdy in the hallway. Annoyed, he opens the door to take a look at the disturbance. His name is Vlad. And God, he is beautiful.
You can watch brand-new episodes of Gaya Sa Pelikula every Friday at 8PM on Globe Studios' YouTube channel.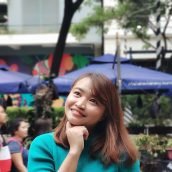 Queenie Lastra
Queenie Lasta got her bachelor's degree in Communications Research from UP Diliman. In her free time, she likes to read thriller novels, psychology books, and mangas. She believes in the importance of grit, hard work, and passion to become a great writer in the future.