Tech-up your gift-giving with Logitech's 12.12 Big Christmas Sale on Shopee This Holiday Season
Feeling extra generous this year? Share your favorite Logitech gear with those you care about this Christmas!
Some of the best gifts to give your loved ones this Christmas are things that you really love and use yourself. By choosing tried and tested products that you trust, you'll know for sure that the gifts you are giving are high-quality, reliable, and useful.
This Christmas season, why not gift your loved ones with new home office peripherals from Logitech? Give them a fresh start at work in the new year!
With the 12.12 Big Christmas Sale happening on Shopee, this is a great time to score the best deals on keyboards, mice, and headsets from the brand. And, if you're feeling extra generous, you could even put together a whole new work-from-home package for a special someone!
Make the most out of Logitech's 12.12 Big Christmas Sale at the Logitech Official Store in Shopee, and enjoy up to 50% off on select items, cashback capped at Php 100, and free Sodexo GCs worth Php 100, Php 200, and Php 500 for select items.
You also get Php 200 off for a minimum purchase of Php 3,000. As an add-on deal, Logitech is offering an additional 2% off for every purchase of 2 units, and an additional 5% off for every purchase of 3 or more units. Special bundles and freebies are also in store for 12.12 shoppers.
Gift someone with new work gear, just in time for the new year!
One of the best gift options from Logitech's product catalogue is the M221 Wireless Silent Mouse. This comfortable and easy to use mouse would make a great addition to anyone's busy desk or workspace. It's super portable and extremely quiet, too, and makes 90% less noise than a typical mouse. This mouse also comes in white, rose, and black colors to match your style.
Another great gift is the M585 Multi-Device Wireless Mouse, a wireless mouse that can really perform. This mouse is powerful and precise, and works just as hard as you do. Of course, while still providing hours of comfortable use.
You can connect this multi-device mouse to your laptop, computer or tablet. It even lets you move your cursor across two computer screens to seamlessly transfer text, images or files from one to the other.
You can't go wrong with the MK270r Wireless Keyboard and Mouse Combo as a Christmas present. After all, it's called the world's best-selling combo for a reason.
This full-sized keyboard and compact mouse combo can be used to do work from anywhere. It delivers the perfect mix of durability, reliability, and comfort, giving its users a familiar feel that simply works.
The Logitech M337 Bluetooth Wireless Mouse is compatible with practically every operating system available and is easily paired via Bluetooth.
Available in both black and red, you can choose the variant that best suits your style. This mouse is compact and mobile, and can easily be carried around in your bag or even your pocket. Its curved shape with rubber grip provides both comfort and support for your hand while you work, too.
Did you ever wish that your computer keyboard would also work with your phone and tablet? With the K375s Multi-Device Keyboard and Stand Combo, this is totally possible.
This combo is a great match for all the screens you use on your desk. It allows you to switch from typing reports on your computer to sending messages on your mobile phone. This is on a single well-built keyboard that provides a familiar and comfortable typing feel.
Go from work to play with the K400 Plus Wireless Touch Keyboard, an awesome home theater keyboard for PC-controlled TVs. This wireless plug-and-play keyboard gives you total control over your TV-connected PC from anywhere in the room.
It has a built-in touchpad for effortless navigation without the need for a separate mouse, and media controls. This makes it easy to adjust volume, make selections and use your favorite Windows or Android shortcuts.
Logitech's MX Anywhere 3 is the ideal wireless compact mouse for advanced creators. Designed for mobile work, this mouse combines ultimate versatility with remarkable performance.
Not only does it track anywhere, even on glass, this mouse also features MagSpeed Electromagnetic scrolling. It is precise enough to stop on a pixel and fast enough to scroll through 1,000 lines each second. You can choose between Graphite, Gray, and Rose colors when giving this mouse as a gift this Christmas.
See Also
The MX Master 2s wireless mouse is the new possibility machine. This is Logitech's flagship mouse. It has been designed for masters of their craft who want to get more things done, more efficiently.
This mouse combines advanced features with a stunning design that provides exceptional comfort, control, precision, and customization. It also includes a precision sensor that tracks virtually anywhere.
Not to mention, a Logitech Flow that lets you seamlessly control two computers with one mouse, and even copy-paste content between them.
Don't miss your chance to go Christmas shopping at the 12.12 Big Christmas Sale at the Logitech Official Store in Shopee this December 12! Visit the Logitech website and official Facebook Page to learn more.
Your 12.12 purchases will also make you eligible to join the Logitech Work From Home Xmas Xtravaganza Raffle Promo.
You can win up to Php 100,000 worth of prizes, including Logitech Z407 Bluetooth Speakers, Logitech C922 PRO HD Webcams, office table, and chair sets, LED monitors, and an HP-Pavilion 15-EH1121AU with Logitech Mouse, priced at over Php 50,000.
For more details, and to register for the raffle promo, visit https://logitechrewards.ph.
Logitech products are also available at partner outlets, PC Express, Silicon Valley, DataBlitz, Octagon, Electroworld, Complink, iTech, Techwarez, Gameline, Interpace Computer Systems, GameXtreme, Office Warehouse, TTi, GameOne, JOYO, Gadget Headz, DynaQuest PC, Digi-Serv Solutions, Concept Computer, NUTECH, DFE (Davao Futurebright Enterprises), Villman, PCWorx, Abenson, Digistore, and Greenware.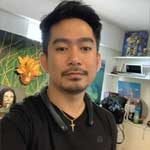 Josh Austria
Aside from being a businessman, Josh Austria has been working in PR and media industry for more more than a decade. From his years of experience as the Marketing and Advertising Head of Village Pipol Magazine, he has built strong relationships with creative people, brands, and organizations.