Get 10% off vouchers when you shop for Marian-approved gifts and mommy essentials this Mother's Day Blowout from May 6 to 8! Ever wonder how Marian Rivera juggles multiple roles in life? How she still makes time to be a doting mom and wife? The Shopee brand ambassador opens up about motherhood in time for Mother's Day.
Marian Rivera prioritizes being a mom above all else
Marian Rivera wears many hats as an A-list actress, thriving entrepreneur, and hands-on wife and mother. Despite this, she ensures that she never gets too busy with family. She still dedicates most of her time at home, bonding with her kids and taking care of the household needs.
"Alam mo dapat kung kailan ka need ng mga anak mo, ng asawa mo, [You should know when your family needs you] because at the end of the day, family should always come first."
At the end of the day, being a mom remains Marian Rivera's most important role in life. Plus, her children remain her number one fans. Raising her kids as kind, responsible, and compassionate people becomes the biggest goal she striving to achieve.
Marian Rivera rises to the challenges of motherhood 
She acknowledges the difficulties that come with being a mom, and these have amplified even more over the pandemic. Sure, it feels tough for her kids who remain both at the age of exploration. They want to understand what's happening outside their home. The Shopee superstar shares,
"We had to talk to them and explain that there are a lot of changes and limitations because of this pandemic, but still reassured them that things would get better."
With the situation easing up in the last few months, Marian and Dingdong feel happy to finally have their kids go out more. They finally feel their loved ones and travel as a family.
Encouraging moms to make the most of Shopee's convenience and variety
Shopee has remained Marian's go-to for her family's needs and home budols these last few years. She admits to being an impulsive, but happy shopper. Adding to the cart and checking out all sorts of items, she likes to spruce up different parts of her home.
"Minsan talaga wala ka nang time na lumabas at mamili para sa sarili or sa pamilya mo kahit gustuhin mo [sometimes we don't have time to go out and shop for ourselves or for the family even if we want to]. Shopee is very reliable and convenient. Because, with just a few clicks, you get to shop for anything you need and want, all in one place."
Celebrate Mother's Day with Marian-approved top gifts for moms
Shopee mom Marian reminds all mommies to take care of themselves because they definitely deserve it. Marian recommends a variety of finds that all types of moms can either get for themselves or hint at as a gift from their family from this Mother's Day Blowout, which offers up to 10% off vouchers that shoppers can use to buy fun and functional gifts before the celebration on May 8: 
Be a gorgeous, glammed up mom with these trendy accessories
Look fabulous for any occasion with this Silver Bracelet worn around your wrist. Made from genuine Italian silver, this accessory will surely make you feel confident and stunning. To match this, why not ask your family to give you a new pair of elegant yet affordable Gold Stud Earrings? Finish off your look with fashionable yet functional Retro Eyeglasses. These steel glasses with anti-radiation lenses will turn heads and have other moms asking you where you bought it.
Get these kitchen and pantry upgrades to be the ultimate homemaker
If you're like Marian who spends a lot of time in the kitchen, consider scoring these Kitchen Utensils at a steal. For less than ₱500, you get 12 different utensils that can make dishing out your best recipes even easier. Prepare your ingredients faster and more efficiently with a Mandolin Slicer that allows you to slice veggies and fruits like a pro with its durable, stainless steel blade. For a family of foodies, you'd appreciate having your own Induction Cooker at home! Channel your inner chef and cook your favorite dishes for your family with this versatile appliance.
Marian leaves a simple message to all her fellow mommies — "Sa lahat ng mga dakilang ina katulad ko, Happy Mother's Day. Sobrang deserve natin ang magpahinga, magpapamper at ma-feel natin na special tayo." [To all the great moms like me, Happy Mother's Day. We deserve to rest and pamper ourselves to make us feel special.]
For more information on the Shopee's Mother's Day Blowout, visit https://shopee.ph/m/mothers-day-blowout. 
For a more rewarding Mother's Day, activate ShopeePay now to access exclusive perks such as daily free shipping and cashback vouchers, as well as deals when you buy load, pay bills, and send money.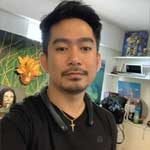 Josh Austria
Aside from being a businessman, Josh Austria has been working in PR and media industry for more more than a decade. From his years of experience as the Marketing and Advertising Head of Village Pipol Magazine, he has built strong relationships with creative people, brands, and organizations.