Google teams up with Dashboard Philippines to help you plan errands
Once or twice a week, we leave our houses to buy groceries or medicines as allowed by the quarantine rules. There's even a meme circulating on Facebook comparing us to "tributes" like on Katniss Everdeen from the Hunger Games trilogy. Perhaps, it just means that hunting for food supplies and necessities can be risky too.
Google partners with Dashboard PH for COVID-19 related updates
Thankfully, Google collaborated with Dashboard Philippines to map out medical facilities and relevant establishments for Filipino consumers like us. Now, we can view real-time and more trustworthy updates related to COVID-19 with just a few clicks.  Google Cloud and Google Maps power this online platform. If there are any changes, Google automatically reflects it on the website.
The information includes checkpoints, donation centers, and open establishments. Aside from that, they also added data about shuttles for essential workers and hospitals that have available beds, among others. A team of volunteers developed the Dashboard Philippines website before and they collected publicly available information from trusted resources. They only gather data from official company websites verified Facebook pages and established news institutions such as The Philippine Star (philstar.com), Philippine Daily Inquirer (newsinfo.inquirer.net), and Manila Bulletin (news.mb.com.ph)
Moreover, the volunteers created this tool to assist you in your day-to-day errands and activities. In fact, this website is an interactive database of important establishments, shuttle routes (for the health workers and frontliners), and donation centers available for the duration of this lockdown all mapped out for your convenience.
How can I use Dashboard PH?
To search for open establishments near your location, select the type of establishment you're looking for on the left panel. After that, browse through the markers shown around your area. There's no search bar yet for specific searches but they noted that they are going to add this function soon.
If you have any concerns or inquiries, you can email or contact them at support@dashboard.ph.com and someone from their customer representatives will assist you.
Let's all be wiser and more informed during this pandemic. Stay safe!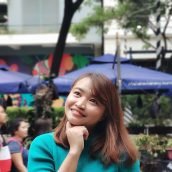 Queenie Lastra
Queenie Lasta got her bachelor's degree in Communications Research from UP Diliman. In her free time, she likes to read thriller novels, psychology books, and mangas. She believes in the importance of grit, hard work, and passion to become a great writer in the future.