Adobe now has a FREE camera app for Android and iOS users
FaceTune, Camera 360, Beauty Plus? Yes, these are the commonly-used applications to enhance your photos, especially your selfies. But there's a newcomer that is challenging to step up the game. Its brand is famous as a desktop application used for professional photo touch-ups. Now, Adobe Photoshop is bringing a Photo Camera app both in Android and iOS!
Powerful editing tools and effects
Adobe has teased the launch of this much-awaited app and now it's downloadable for mobile and tablet users. Adobe allegedly designed this app to empower creativity and expand what's possible on smartphones. It also allows people to tell stories in new ways.
The Photoshop-powered camera application first announced last year, which utilizes intelligent technology Adobe claimed that this app can decide "the best lenses and filters for your photos". This tech enables the app fo intelligent suggestions on which filters, effects, and edits are best suited for the photo.
Aside from its line up of original filters, well-known artists and influencers also contributed to this app. All of these filters can be selected before taking a picture but the user can also edit it after the shoot. Moreover, users can also have access to quick-fix tools like portrait relighting and distortion removal. For extreme conditions that bring harsh highlights and shadows, the Auto-Tone tool provides a solution.
Meanwhile, the app includes a Content-Aware Recommendation tool that automatically modifies the camera's settings. In effect, the subject is in focus and the lighting is accurate to real life. Adobe added some Portrait Controls to assist users to take their best selfie whatever the lighting conditions or background are. There are also manual editing tools to help them bring particular ideas to reality.
As mentioned, the Adobe Photoshop Camera app is available for download now for iOS and Android devices.
Who among you guys are excited to experiment on your photos with this new camera app?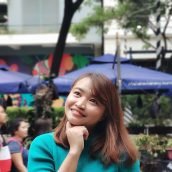 Queenie Lastra
Queenie Lasta got her bachelor's degree in Communications Research from UP Diliman. In her free time, she likes to read thriller novels, psychology books, and mangas. She believes in the importance of grit, hard work, and passion to become a great writer in the future.