Samantha Bernardo and her empowering journey to the golden crown
Aside from being a gorgeous Filipina, Samantha Bernardo pretty much deserves to compete in the Miss Grand International this year. Want to know why?
With a competitive spirit and a heart to win for the Philippines
This 28-year-old lady has been doing her best to represent her hometown in national competitions as a rhythmic gymnast. Aside from that, Samantha is a cultural performer and a former president of the Sining Palawan Dance Troupe.
Through that organization, she proudly showcases Philippine tradition through folk dances. Despite her busy schedule, she manages her own clothing business as an entrepreneur!
Aside from these, Samantha is set to compete in the Miss Grand International pageant in Thailand on March 27. But before that, let's discover why this beauty queen has a solid chance to bring home the golden crown.
What's your motivation in participating in Miss Grand International? Why?
My greatest motivation in participating in MGI is to bring home the 1st ever crown for our country and of course, our fellow Filipinos that are immensely affected by Malaria. My heart will always be dedicated to the global effort to fight malaria.

How do you handle the pressure of being someone who's representing our country internationally?
I think the discipline I got from being a gymnast helped me a lot in handling pressure. Maintaining a calm demeanor even the world around you is crumbling really helps. Also, staying focused on the things that need to be accomplished, how stressful it may be.

On the other hand, I think the pressure is good. It shows that I am still grounded and knowing that nothing is certain.
 So far, what's the most challenging part of your preparation process?
TIME CONSTRAINT! Given the time frame, I feel the time is the most challenging part for me and my team. For instance, I need new gowns and National Costume in less than 2 weeks! So I am grateful to all the designers most especially to Yeye Manila for my finals gown, Patrick Isorena for my National Costume, Team Styled By Kenneth R, Ornate Manila for my jewelry, Jr Constantino for makeup training, and Darwin Sińel for hairstyling. Special thanks to Wilbert Tolentino for the support and KF Camp for guiding me along the way.

For you, what's the essence of a Miss Grand International in these contemporary days?
More than the glammed face and fancy dresses, I think having a genuine heart to fight all forms of war is the real essence of being a Miss Grand International. A personal fight against the "demons" in your head, a violent household, unjust workplace, or school — these are just some of the wars that the people today are overlooking. Sometimes, these silent battles are harder to win, but having a strong heart will propel you to do better.
Being a part of the Malaria Must Die movement, what can we do to eradicate or beat this disease?
Spreading awareness and educating people. That's what we do all the time when we do outreach programs. We have this 3 letter word guide, "Mag-KBT". Konsulta. Bloodsmear. Tamang Gamot. I am dreaming of a day that we can all break away from the shackles of this global dilemma.

Since your hometown is Palawan, how will you promote it to other nationalities?
Known for being the last frontier of the Philippines, it will not be hard to promote Palawan. The emerald waters alone can speak for themselves. And we are always proud to be considered as the 'Best Island in the world'.
 What's your experience growing up in Palawan?
It's a very simple living, and nothing fancy. I developed a personal and intimate connection with nature and I think that's where I also got my core as a nature lover, family-oriented, and God-fearing person.

What do you think women should do more to empower themselves in today's society?
Empowering is being in charge. You cannot empower others if you are not empowered yourself. We, women, should first step out from the shadows, throw ourselves into the crowd while being cautious, and walk with our heads held high as others stare at us while we pave our way to success.
Village Pipol is full-on support with Samantha Bernardo's journey to become the Miss Grand International in March. Best of luck to you, Samantha!
Publisher |  Richie de Quina & Gwynn Crisostomo
Editor-in-Chief |  Jim Reynold Zamora
PR & Advertising Manager |  Josh Austria
Digital Manager |  Allen Esteban
Produced by Josh Austria
Words by Queenie Lastra
Photographer | Dix Perez
Head Stylist | Kenneth Ramil
Stylist Associates | Karl Dioso and Cassie Medina
Hair by | Darwin Sinel
Makeup |  JR Constantino
Accessories and Jewelry | Ornate Manila by Adam Rico de Guzman
Suite Dress | Liz Enriquez
Gown (Feather) | Yeye Pantaleon
 Studio | The Penthouse Photography Studio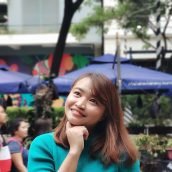 Queenie Lastra
Queenie Lasta got her bachelor's degree in Communications Research from UP Diliman. In her free time, she likes to read thriller novels, psychology books, and mangas. She believes in the importance of grit, hard work, and passion to become a great writer in the future.