January and February 2022 — a Fantabulous Introduction to an Exciting Year
Truly, 2021 was one heck of a ride, right? But look at us, we have clearly endured the tough twelve months, and we wrestled every hurdle like a champ!
As we embrace the new beginning brought to us by 2022, several of us are still finding our footing. We try to grasp how to execute our wonderful plans this year, yet, we have already delivered so much beauty and joy.
Here at the Village Pipol Magazine, we really did the most out of January and February.
Succeeding both real love and reel love
The rising love team Althea and Bruce showered us with their undeniable charisma and chemistry, both on and offscreen in our January – February VP/Cover.
Undeniable beauty and tasty treats
All of us have been blessed with the breathtaking beauty of the province of Albay as we dived deep into its amazing tourist destinations.
Meanwhile, readers have also been enchanted by the underrated gems of Metro Manila with these flower shop cafes. They not only showcase wonderful flowers but also serve the most scrumptious food.
Topics that spark interesting conversations
We have shared our insights about finding the right time to bring another human being into this world. It begs the question, "Are you truly ready?"
The magazine also aimed to educate people when it comes to the dangers of illegal drugs with an exclusive interview with a former doper.
Fashion is ever-changing
This January – February VP/Xclusives brought us the genius of Mark Neto Diaz when it comes to looking at fashion photography from a different angle as he encourages inclusivity and diversity in the industry.
Also, we have featured footwear that is perfect for everyone on the go who wants something comfortable. Explore Aleys Mnl!
Discovering a new sound
The magazine's senior editor also had a chat with a promising artist who just debuted with a very catchy and refreshing song. Silas' Melting Vitamins is one that you shouldn't miss.
When it comes to exciting tech, we did an in-depth review of the DIZO Buds Z, realme's first collaboration with the brand DIZO.
Last but not the least, P-Pop, indeed, looks promising as its monster rookies, VXON, emerge with their debut song, The Beast.
If these promising artists, beautiful places, and amazing works of art don't make you pumped up for the next coming months of the year, I don't know what will. 2022 really did start strong. Cheers to an amazing headstart!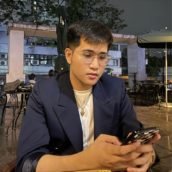 Raphael Garcia
Raphael is a person born between the generations of Millenial and Gen Z. He was produced by Cavite State University (Main Campus) with a bachelor's degree in Political Science. The lad has a fresh take on things, but can still stay true to his roots. He writes anything in Pop Culture as long as it suits his taste (if it doesn't, it's for work). He loves to wander around the cosmos and comes back with a story to publish.