VP/Xclusives: MJ Lastimosa — The Birth of Beauty, The Making of a Queen
The Philippines is known as a beauty pageant powerhouse. Not only does it hold a remarkable streak in placements, but it also ranks high in securing the most wins during important beauty competitions. As a fierce rival in the eye of everyone, we are undisputedly a land where the seemliest, daringly ambitious, and most competent of all women reign.
Fitting in this narrative is Mary Jean "MJ" Lastimosa, a composed lady from Mindanao. As if she needs introductions, she is currently exploring latitude in her career as the face of Virtual Playground. It is a rising talent management and casting agency that houses homegrown artists and maximizes their potential.
In 2014, MJ joined Binibining Pilipinas, where she won the right to represent the Philippines in the prestigious Miss Universe scene. And there, she outshone other candidates by finishing as a Top 10 semifinalist.
Besides being a model, host, actress, and television presenter, MJ is known best as a comical female figure in her industry. Pageant after pageant, she cemented her relevance by making the stalwarts rely on her wittiest and most entertaining remarks.
Peeking at her poise, prying at the life under her crown—let us trace the path leading to the beauty queen icon, MJ Lastimosa.
A glance at how MJ grew up
Unlike her exquisite image every time she carries herself on stage, MJ lived a humble life. Although to go with the details, it would be far from being comfortable. She even told us that if we look at her today, it will be impossible to decipher what kind of past she carries behind.
"You won't believe I grew up in a war-torn area wherein you are used to packing evacuation bags in case of conflict. I wouldn't say life was hard, given the very humble setting. But maybe because children have the gift of innocence, we make the most out of what we only have."
In addition to growing up in a place threatened with violence, MJ was the youngest child of both parents living abroad. Her childhood was deprived of the privilege of parental presence, forcing her to toughen her perspective. Describing what it's like to be almost estranged from such loved ones, she said:
"It has been good and bad. Growing up in my teens and moving to Davao without parental guidance put my decisions to the test. It taught me to be responsible for every life choice I make."
To this day, MJ is physically and emotionally distant from her parents. She would point to the difficulties in communicating, if not the lack of it, as the main reason. Despite this, she is still looking forward to reuniting with them one day.
MJ sees growth and progress as something that gets her going. According to her, the fact that she mastered independence is her biggest source of strength. And while it may not be by choice, it's the life she already and truly embraced.
She could not have been a beauty queen
We can't picture MJ more perfectly than being a beauty queen, not when we witnessed and took pride in her pageant story. However, a completely different career would have awaited her had she not chosen this path.
In her younger self, MJ recalled the dreams of owning a house, building her family, and earning a 9-5 stable job. Quite a picturesque lifestyle, yet, these aspirations were nowhere close to the woman she has now become.
When she entered college, MJ spoke of having no definite plans for what profession she should pursue. She decided on her course based on the list of suitable programs of her scholarship results. And that is how MJ ended up finishing a degree in Computer Engineering.
"I never imagined myself being on TV or being a beauty queen. But life is full of possibilities, and I love how it keeps surprising me!"
Indeed, the surprise that would overturn her life came to MJ in 2008. She participated in Mutya ng Davao and got the crown for the most coveted title. This instance will open the door of opportunities for her to penetrate the national stage of beauty competitions.
"I joined minor pageants in school mainly because I was forced to, but winning Mutya ng Davao was life-changing. It made me embrace the world of pageantry and realize that it was something I could pursue, from social impact to inspiring kids from the province just like myself."
Suppose MJ did not enter the world of pageants. She could have been a mom working as an engineer in the province or an owner of a farm. But destiny brought her to a path she never imagined taking. As for the rest, it's an endearing history.
Her Miss Universe journey
Like every other tale of victory, MJ faced several failures before receiving the memorable applause of success. In 2011, she first attempted Binibining Pilipinas but only placed second to Shamcey Supsup. The following year, she partook again and faced another defeat in exchange for a valuable realization.
Lasting her battle as a top 12 finalist, MJ shared that not making it to the top 5 of Binibining Pilipinas 2012 humbled her. This loss was that one she stressed she would never forget as it made her see through what life is,
"I used not to consider losing just because I believed I worked so hard and deserved to win. But that changed me. I learned that in competition, it's not just about my story being written but also about other women. I started and learned to celebrate other women and their success along with mine. It made me feel so much better in embracing disappointments."
Came 2014, MJ joined the Binibining Pilipinas for the third time. She recognizes the efforts of her camp in their thorough convincing for her to rejoin. With perhaps charm but more of her perseverance, she finally conquered the stage and fiercely won.
"Winning BBP Universe at my third try, I am unsure if my experience was unique. But as my co-candidates hugged and congratulated me, a few told me how seeing me win made them feel okay to accept defeat. After witnessing my resilience and how it made an impact, they are ready to try again. And I couldn't be happier to hear them say I inspire them to keep trying, even if it's not in pageantry."
MJ flew to Florida in the United States in 2015, bearing the name of the Philippines and vying for the Miss Universe 2014. Keeping at the placement streak of the country in the said pageant, she finished the journey as part of the top 10 semifinalists.
MJ emphasized how this meaningful experience impacted her perspectives. Her triumph not only taught her to stand still and be strong in times of defeat. It also led her to go for growth and never fear change. As for the most valuable lesson that she learned here,
"In times of shortcomings, don't try to look around in search of something to blame. Instead, look in the mirror and evaluate from there. Then maybe, you'll see a weapon for your future hurdles."
Following the history she painted seven years ago, MJ has come so far. Countless opportunities knocked on her door, providing her with unceasing sources of growth. But what stood out in her explorations is her chronicle of clever pageant commentaries. Her passion reverberates to many causes, one being the elder sister to all younger candidates.
"To all aspiring beauty queens, you are beautiful, you can do this, and you are worth it. I will be right here, your big sis, waiting for another season to support you."
Recently, MJ debuted acting in a movie through Amazon Prime's Day Zero. It followed another proud milestone as host of the multi-decadal variety show Eat Bulaga. Not to mention, she thrives as a businesswoman with brand-new investments here and there.
Otherwise, MJ enjoys the liberty of quiet times alone outside these commitments.
MJ Lastimosa— The Birth of Beauty, The Making of a Queen
For MJ, every morning is waking up to a pageant carrying the hopes of winning today. With life being a big catwalk, we come across many challenges. Hence, the key to leaving a good fight is putting your best foot forward until both are even. Also, it's to acknowledge the significant role of our mistakes.
"I have so many regrets about things I said or actions I took. But at this point, I consider them a done-deal thing. They are something I can't take back but learn from to be a better person."
Meanwhile, MJ gathers inspiration from the daily stories she encounters on and off the industry. She ponders and welcomes every bit of a unique and encouraging narrative from her excellent listening skills. And this speaks so much for the legacy and name she has made.
MJ reiterated that her being a beauty queen is something she will forever hold in her heart. Beginning the day she was crowned, she took it as her lifetime responsibility. She added that beauty would attract, but a queen will etch in your heart.
Composed of the hallmark and outstanding demeanor, we saw the need to ask MJ this. In her opinion, was the beauty queen in herself born or made? And here is her answer:
"Definitely, I am made. I am a proud product of LGBTQ mothers who believed in me before I started believing in myself. Without them, I would never find the courage to pursue pageantry."
True enough, MJ Lastimosa is a woman of substance. As a beauty, she was born. But as a queen, she made it to become one.
Publisher | Richie de Quina & Gwynn Crisostomo
Editor-in-Chief | John Luke Chica
Senior Editor | Rapha Garcia and Angela Baltan
PR & Advertising Manager | Josh Austria
Digital Manager | Allen Esteban
Words by Renzo Robles
Photography | Nicollo Cosme
Assisted by | Sher William Avelino
MUA | Iowani Unpincgo
Hair | Jona Quinn
Special Thanks to Virtual Playground Global and Glenn Mark S. Salamat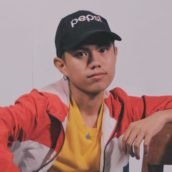 Renzneil Robles
Renzo is an introvert who prefers to do things at his own pace. Unlike most writers, he reads lazily. Watching Korean dramas at night is his constant source of comfort. Although oftentimes commended for being outspoken, he speaks better through writing than with his words.