In every pageant where millions of Filipinos are watching, expect that there is one MJ Lastimosa and her chronicle of playful commentaries.
Mary Jean Ramirez Lastimosa, 34, is an actress, host, television personality, and beauty queen icon herself. In 2014, she represented the country as the Miss Universe Philippines and finished as a Top 10 semifinalist. Being a titleholder, she started a culture of sharing her pageant remarks, eventually becoming a practice that people loved.
And in continuation of her saga, MJ invades social media once again! Let's take a look at her ever-winning banters during the 58th Binibining Pilipinas Coronation Night:
Catching the signal
Of course, checking on your connections before anything gets started is crucial. After all, it's no fun missing out on essential teas. Hence, as seen in MJ's earlier tweets, she does as instructed, even addressing all her "marytess."
Starting with the host
For MJ, a friend is always an easy target of humor. Speaking of which, 2016 Miss Grand International Philippines, Nicole Cordoves, is caught on the radar. Subtly poking fun at one of its attire, MJ's jest gathered her over 50k Twitter engagements and counting.
Changing someone's surname
Herlene Nicole Budol is certainly a buzz-maker of this year's edition of Binibining Pilipinas. Unfortunately for her, she might have to need a new birth certificate. As per MJ, apparently, her surname is now "Awards."
Found a new bestie
Remember MJ's iconic "birthday cake" dress, which she wore as a national costume for Miss Universe 2014? It has found a new worthy opponent! Thanks to Ms. Tacloban Chelsea Fernandez, whose evening gown gained MJ's acknowledgment.
SB19 is no exception
Even the performers are not marked safe as a subject of MJ's banter. In particular, SB19 bandmate Stell is mistaken for a hair-and-make-up artist who quickly became a world-class performer!
In another tweet, though, MJ genuinely complimented the P-Pop group. She also approves of the ensemble's rendition of "Win Your Heart," the BBP theme song.
MJ the saint?
To be fair, MJ exempts no one to tease next, including herself. For instance, she doesn't mind being branded as a "poon" as she refers to her streak of awarding the best binibini in a swimsuit.
Queen of moral support
You might think MJ is all tease despite her once being a candidate. However, she only has her own way of showing support. May her tweets below remind you how she empowers as a sister to all women in this field.
Truly, MJ Lastimosa is an embodiment of wit and humor. Her remarks deserve a crown, and we shall see her the next time!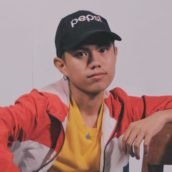 Renzneil Robles
Renzo is an introvert who prefers to do things at his own pace. Unlike most writers, he reads lazily. Watching Korean dramas at night is his constant source of comfort. Although oftentimes commended for being outspoken, he speaks better through writing than with his words.