VP/Spotlight: Vrix Gallano gets down to business
Gambling into a playful business amid this overwhelming era, Vrix Gallano is all braced to show the world what he has to offer.
Vrix was a graduate of tourism management at Far Eastern University. He initially pursued engineering but had to stop due to financial problems. The lack of mercy during tighter times made him choose between the practicality of studies and work. So, he picked the latter.
After saving up, Vrix returned to school while keeping his job. Becoming a working student was the only way he could afford the luxury of sustaining his needs. Through his perseverance, he finished his degree as a proud academic scholar.
At the age of 25, Vrix gained online prominence due to his viral live-selling stints. In the video-sharing platform TikTok, he took the practice of online retailing to its new height. Sculpting his mark earned him the ticket to highlight his sharp contrast.
As a result, Vrix acquired the relevance and the liking of many from the internet audience. Some call themselves avid fans, while others don't hesitate to express admiration.
VP/Spotlight: Vrix Gallano gets down to business
Trials and errors
Like most users, Vrix became associated with TikTok during the height of the pandemic. He said it was initially for casual use, as it was the peak source of entertainment in the middle of the long lockdown period. But when an opportunity surfaced to utilize the platform more than that, he instinctively grabbed it.
Sumusunod lang ako dati sa kung anong uso sa Tiktok. Madalas, I share 'yung mga random thoughts ko. Pero after those, I wanted to establish my branding. Kaya nagsimula ako sa pagtatanong ng mga questions that would trigger funny reactions.
By "random questions," Vrix meant bringing up silly topics to exploit the curiosity of his followers. For example, he would search for answers in 'ano pong Tagalog ng bag?' or 'anong English ng puyo?' The move surprisingly led to impressive feedback.
Vrix emphasized he was dazzled to learn that people actually answered his queries. To think that he did all those for fun, he naturally had no expectation of receiving responses. In spite of that, the now-famed online figure said becoming a content creator was not part of the plan. He only intended to sell his items online, while his childhood dream was to become a public speaker or a professor.
From the ground up
Vrix maintained his minimal habit of engaging with the viewers for a while. Although, soon enough, he will give in to the call of practicality and begin live selling on TikTok. According to him, he started the practice around the second quarter of 2021.
What would then go unnoticed is the massive amount of attention Vrix attracted through his live selling. He woke up one day, finding he had gone viral and was sitting on top of popularity at a gallop. He recalled the moment and openly narrated how he felt.
Normal na araw lang 'yon para sa'kin when I saw some comments saying, 'trending ka na.' Hindi ako naniniwala noong una. But to my surprise, 'yung viewers ko, araw-araw nang tumataas kada live.
The turning point was evident, and Vrix became an eyewitness to his fame. From an average of 5,000, his spectators rose to 45,000. He still could not believe it when the numbers peaked from 200,000 to more than 800,000 viewers each live selling session.
Nabigla ako no'n, pero isa lang naisip ko. Sabi ko, I want to use this platform properly.
In no time, Vrix has been welcoming his day with the anticipation of many followers whose fondness he has amassed. He denied the claims that he staged the candid moments people loved, stressing it was all his unrehearsed charm.
When asked about his online selling concept, Vrix named none. In fact, he said he allows his viewers to determine the flow of his live stream. He would go whichever way his audience wanted, but with the reminder of certain limitations.
Sweetening the deal
To remain in business is to make sure you have something new to offer. As for Vrix, his online selling is consistent with its element of surprise. Thanks to the creativity of his fans and followers, who never ran out of bizarre ideas they wanted the lad to try.
Speaking of bizarre, Vrix has a long list of absurd gimmicks he has pulled off so far. For instance, he had experienced selling live while cooking, eating, or in the middle of taking a bath. Following some suggestions also led him to the streets or on a highway— still doing his best for buyers to say, "mine!"
Consequently, Vrix slowly captured and raised a pool of his admirers. However, along with the growing adoration were those who could not appreciate what he was doing. He admitted having lots of bashers who would nitpick his height and appearance, saying he relied too much on filters. Despite this, he knows how to handle negativity.
In reality, some people will watch out for your faults. And for me, that's okay as long as I have a personal space to breathe.
Vrix affirmed that since he is aware of his flaws, nobody can no longer use them against him. He added that contrary to his funny impression, he takes things seriously. He observes a lot and knows that hard work is essential to attain one's goal.
The cost of fame
Many aspects of Vrix's life have changed since he went viral. Part of those is the chance to work alongside other people through partnerships and collaborations. He was also able to gather a lot of novel experiences beyond his imagination.
Furthermore, Vrix narrated how the opportunities that knocked on his door reformed his path. Thus, he expressed gratitude to the brands that acknowledge his potential. His routine may have become hectic, but he is satisfied with seeing room for growth.
Natutunan ko talaga na time management is a must. Para naman sa mga taong judgemental, narating ko na 'yung point na instead of allowing them to consume me, I make adjustments and try to understand the situation. Nag-iisip akong mabuti bago magrespond.
Despite his apparent online status going uphill, Vrix does not consider himself an influencer or a content creator. For him, he remains to be an online seller who enjoys what he is doing.
Not everyone knows me, but I'm thankful for those who do. Basta ang focus ko, doon sa what matters the most— family, friends, and career. I am staying in this practice kasi masaya ako.
On the contrary, what can drive Vrix to set sail far away from social media?
My mental health. Narealize ko that gaining attention online will expose you to people that say mean stuff about you. So whenever I am mentally overwhelmed, I rest, quickly catch my breath and collect myself to stand back up.
To distance from further negativities, Vrix limits exposure to harsh criticism. When in need of clearing his mind, the self-confessed "gym rat" said a good workout is an answer.
Getting down to business
For Vrix, an essential takeaway in his journey is acknowledging he still has to learn many things. He looks forward to constant development and gathering more lessons from people.
Meanwhile, his most significant fulfillment lies in the growing influence that permitted new achievements and inspiration. The attention and adoration he received did more than just feed his family. It also helped him walk through a path he never thought he would take.
Vrix also took pride in extending his success to others.
I was able to create more job opportunities for our local tailors and seamsters. I also hear people tell me I inspired them to work hard. I am just glad my story can motivate them to further their patience, hard work, and determination.
At present, Vrix has 1.8 million followers on TikTok and counting. Likewise, his Facebook pages have garnered over 168,000 combined followers. Indeed, the world for him took an entirely momentous turn after he went viral.
With his experiences, Vrix long realized the power of social media and the responsibility that comes with it. Hence, he wants to remind everyone of the different strengths they possess. At times of feeling lost, he believes it's best to know where one is strong and attempt to excel at it.
However, his story proved that there is gain, too, in betting against the odds and the unexpected. There may be the risk of facing failures, disappointment, and falling through. But there is the thrill of bargaining for the reward of victory.
Gambling into a playful business amid this overwhelming era, Vrix Gallano is all braced to show the world what he has to offer.
---
Publisher | Richie de Quina & Gwynn Crisostomo
Editor-in-Chief | John Luke Chica
Senior Editor | Rapha Garcia and Angela Baltan
PR & Advertising Manager |  Josh Austria
Digital Manager | Allen Esteban
Words by Renzo Robles

Producer | Josh Austria
Creative Director | Vee De Serra
Photographer | Neil Villaverde
Assistant Photographer | Jas Baldoza
Production Assitant | Ishaq Lagrama and Jowey Gumabay
Photo Edited by | Jan Jet Bolado
Film by | Pogs Torres
Makeup | Paige Seneres
Hair Stylist | Danica Angel Bagao
Stylist | Nash August
Assistant Stylist | James Bryan Moral and Cholo Drake
Set Design | Jas Baldoza
Studio | Prowess Supremacy Production Inc.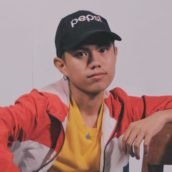 Renzneil Robles
Renzo is an introvert who prefers to do things at his own pace. Unlike most writers, he reads lazily. Watching Korean dramas at night is his constant source of comfort. Although oftentimes commended for being outspoken, he speaks better through writing than with his words.