VP/Spotlight: Press Hit Play Resonates Aspiration in Continuity
There is no end but only an interlude in reaching their dreams― screams the story of Press Hit Play, whose rhythm of determination, resilience, and talent shaped their current progress.
Formerly named Power House Philippines but with a mononym of PHP, this P-Pop group is riding the new wave of opportunities for Filipino talents. They have a fair share of efforts in elevating the country's pride long before the native idol industry made a breakthrough.
And now that several others joined the movement, they are part of a seismic endeavor that is both enlivening and challenging. As only one among many who aspires to be the subject of global adoration someday, they conveyed their sincerest desire:
"The ultimate goal of PHP is to cement its legacy and leave a mark that will stay through generations of the Philippines' music scene, and internationally."
Thus, the process underway, Press Hit Play went through sad and happy melodies. As a group, much like anyone else's drive, they are singing and dancing their way to triumph.
Press Hit Play: The Intro
Press Hit Play composes four talented bandmates: CHRLS, JP, Sev, and Yuuki. In narrating the group's formation, they recalled how everything started with friendship. Each may have a different background, but they strive to achieve a similar purpose.
PHP traced their connections as solo performers or part of previous cover groups in the country's K-Pop community landscape. A history of countless border-crossing opportunities sharpened them and allowed winning international awards. Moreover, they even faced each other as competitors.
Surprisingly, unlike specific groups whose members are a product of audition or scouting, they are different. PHP are diverse individuals bonded by the same dream and passion for music. In the year 2019, those were the exact reasons they decided to pursue a career together.
"We trained for two years while staying together in one house to practice more efficiently. The team first focused on dancing by learning different foundations. We also developed our stamina by doing a lot of cardio exercises. Later, we worked on enhancing and developing our vocals while learning to write and produce our songs."
Came August 6, 2021, Press Hit Play debuted with the track WIN, which sings their story. It's an anthem of encouragement and inspiration from their heartwarming brotherhood formed from former rivalry. Like CHRLS said,
"We are dreamers. We love performing on stage, expressing our thoughts through our songs."
For the love of the homeland, PHP initially derived its name as a close acronym to the Philippines. It shows their genuine commitment to paying tribute as proud homegrown talents. Their title signifies how they define the kind of music they want to leave with everyone.
"Once you press this hit song, it will always play in your mind."
In connection, Press Hit Play's introduction is always accompanied by the tagline, "Set the tune, feel the vibe." The phrase expresses their passionate stand on contributing to the OPM scene.
Likewise, their fandom is called "Pearls," a homage to the Philippines known as the "pearl of the orient seas." True enough, the group values their fans like a treasure for their unmatched love and support.
Versing the PHP members:
CHRLS
Charles Morrison Rodriguez, or CHRLS, is the lead vocal of the ensemble and the one responsible for overseeing their musicality. He was an operating nurse who loved performing before becoming an idol. Joining competitions was part of his old life's cycle.
He was a finalist in K-Pop Star Hunt, a regional talent competition hosted by the South Korean network tvN. Then, in 2014, he finished as the grand winner of JU Entertainment and MBC Music's Dream KPOP Filipino. In facing struggles, CHRLS explained that he maintains composure by striving harder and having faith in his purpose.
"It may be bumpy, but I enjoy every ride. And when I reach my goal, these bruises will be my chip as a winner who never gave up."
JP
The producer-songwriter of Press Hit Play, JP Soliva, was a graphic artist and a roving supervisor of a beauty product company. But through his musical competence, he made a name in the Filipino K-Pop community. He was the champion of Viu's Hello K-Idol back in 2018. He also joined the Pinoy K-Pop Star and finished as the first runner-up in 2016.
Aside from debuting, JP's ambition is to share his music with the world. Thus, he doesn't mind challenges coming his way if it makes him stronger in return. The best gift he can consider receiving is going big in this industry. With this aim, he is constantly seeking positivity.
"When I'm feeling stressed and anxious, I tend to go out, relax and eat my favorite comfort foods. After feeling better, I resume my work."
Sev
Rhadz Axl "Sev" San Andres is the youngest member (bunso) and the main vocal of PHP. In his hometown in Laguna, he was a part-time food attendant and a barista in a catering business. He used to be a freelance acoustic band vocalist, too, before taking the path to become an idol.
At the beginning of his training, Sev shared that adjusting was difficult. Although he likes pop music and is a fan of K-Pop, his forte is singing ballad songs. Hence, blending in with many members was a bold test he had to take. Despite these, his earnest attempts paid off.
"It was an opportunity to learn new music genres, utilize my skill, adapt, and develop new techniques. It helped me become a better artist."
Yuuki
Yuuki Ito is the main dancer of Press Hit Play. On the side of being a previous multimedia artist for various companies, he was a passionate performer. He was part of two K-Pop cover groups and occasionally represented the Philippines in foreign competitions.
As the main dancer, Yuuki usually manages their choreography and leads his bandmates when it comes to dancing. His ample experience in the field contributed to his skills and mindset, which grew over time.
As an artist, he has his most cherished realization in this practice,
"One of the best aspects I've learned is respecting and understanding my colleagues in every way possible."
Arranging the piece: Press Hit Play's Journey
To define Press Hit Play's history is to liken them to a song made up of different verses coming into a single composition. And telling their story can't be possible without the members' vision and the help they got from people who invested trust in their talents and goal.
Ms. Cheryl Trinidad, a sister to CHRLS and founder of the entertainment outfit representing PHP, detailed the events leading to the present. The narrative dates back to when Press Hit Play was only a cover group armed with ability. At that time, the circumstances called for her help to assist the members in debuting as an official P-Pop act.
"To be honest, I have a lot on my plate as a working mom. But with my husband's blessing, he told me to give it a try. We called PHP and had our first meeting at home to get to know them personally. Also, it's to see how we can help them."
Being asked about their goals, the members expressed their desire to break through as official recording artists and make their parents proud. Each wishes to prove they did the right thing by following their hearts.
And although shining best was their potential, there was a struggle to find their path. Hence, starting was never easy for PHP, not when they aimed to debut amid a global health crisis like the pandemic.
But the risk of invading a stronghold of the impossible did not matter to Cheryl and her husband, Chester. They had faith in the talent they saw, further strengthened by determination. From that moment, they decided to soar with the members to whatever destination.
"Meeting PHP with their undertaking, we were moved. What we saw were more younger brothers who needed our care."
After all, it was not just about PHP stepping on stage as artists. Instead, it was the deeper reasons that kept them moving still despite the struggles.
"CHRLS may be a registered nurse, but he always finds himself singing in the hospital hallway or operating room. Meanwhile, JP flew from Samar to prove that dreams do come true. Until his mother's last breath, he was told never to give up no matter what."
"Sev wants to succeed in financially helping his family in the hopes of reuniting with his OFW mom. And Yuuki would like to make his mother proud and tour Japan to discover his roots."
There begins Superb Us Entertainment Production, a structure established to support Press Hit Play amid the growing panorama of P-Pop. The name takes after a fan's memorable impression of the group. Additionally, a fitting representation of a company founded on heart and talent to chase every door of opportunity.
How Press Hit Play remained uninterrupted
Moving along the unpredictable course of their passage to success, Press Hit Play had to overcome many hardships. When asked about the most significant encounter that brought remarkable change to the flow of their career, Yuuki answered:
"So far, the group's biggest challenge is continuing as a quartet. It was hard initially to think of a way to carry on with the four remaining bandmates."
PHP formerly comprised six members. However, this year, two of their companion withdrew from the group in pursuit of their commitments. Their departure shortly occurred after the ensemble shared their final stage at the 2022 P-POP Convention. Presently, Press Hit Play remains the only active male Filipino idol group with four members.
Despite pressure and anxiety, PHP did not look at the situation as a crisis but as an opportunity. They would not have come this far as pillars if not for the determination that forged their dreams closer to reality.
"It might be a loss for some, but it is a chance for us to work harder and reverberate our strength. We will continue to make good music to keep the legacy with the remaining members."
Said Sev, who assured resiliency on behalf of his bandmates. He further added,
"Losing a member doesn't mean losing a strength. It can be a time to rise and become better."
And so, Press Hit Play's perseverance echoes along their sincere resolve to ignite the hearts of Filipinos. Each of them fulfills their part to secure a collective outcome.
"CHRLS checks on the vocals and ensures everyone is in the best condition."
"JP heads the songwriting and production for PHP besides helping with the vocal practices."
"Sev, the youngest, assists in marketing and managing their group's social media accounts."
"Lastly, Yuuki leads the group in dancing, workouts, and maintaining the members' stamina."
Comparable to a music piece, PHP makes up a perfect harmony. Their recent performance at the 2022 Tugatog Music Festival is their turning point as a 4-member group. Also, the proudest moment of reawakening they shared onstage.
Dearest Pearls
PHP is currently preparing for upcoming releases to come out in a few months. That is on top of content, guesting, performances, and even merchandise launching!
On the other hand, here are the heartfelt messages they dedicate to their beloved Pearls:
"Hi, Pearls. Thank you for the ever-loving support that you guys are giving us. We are grateful for your existence. We appreciate all the efforts that you exert each day. We promise that the four of us will continue to work hard to pay back all your hard work. We can't wait to see you all in person. Take care always. We love you.

CHRLS
"Aming perlas! Kayo ang isa sa rason kaya patuloy kaming lumalaban para sa dreams namin. Thank you for always being there for us malaki man o maliit ang blessings natin. I'm so happy na nakikita kong unti-unti tayong lumalago kaya mas masarap sa i-celebrate ang ating mga munting achievements. 'Yung effforts niyo for us ay sobrang naaappreciate ko dahil ginagawa niyo ang best niyo. Hiling ko lang ay magbunga lahat ng ginagawa natin kaya keep holding on lang. Kayo ang aming sandigan at lakas. I love you Pearls!"

JP
"Pearls! I want to tell you that you are the main reason why we exist and why we never stop chasing our dreams. You give us strength and hope in everything we do. We promise to be there for you until the end because we are together on this journey. I will never get tired of reassuring we will all stay FOURever for you. Time will pass, but our love for the PEARLS will stay 224."

Sev
"Hi! Thank you so much for all the hard work. No words can express how grateful we are. I hope we can continue growing as one big family. We love you! Be safe and take care!"

Yuuki
Set the tune, feel the vibe with Press Hit Play
It's not through magic, fantasy, or a written destiny that Press Hit Play earned their places. What they have is reality: building their career from sheer courageousness, skills they founded from scratch, and the bold belief from the right persons they met.
It's all these elements that resulted in a compound of a perfect pitch being the P-Pop group that is CHRLS, JP, Sev, and Yuuki. As an ensemble that went through a lot, they have more stories to tell and more inspiration to present through their music.
Hardship is not something to be glorified. However, against the backdrop of an industry where connections mold fame, there is a lot to learn from PHP's perseverance. And behind this tenacity, they are gleaming with great artistry they readily offered the world.
Certainly, Filipino talent has a bigger chance of becoming a global phenomenon. Especially with Press Hit Play that resonates aspiration in continuity, the future of P-Pop is much brighter.
Publisher | Richie de Quina & Gwynn Crisostomo
Editor-in-Chief | John Luke Chica
Senior Editor | Rapha Garcia
PR & Advertising Manager | Josh Austria
Digital Manager | Allen Esteban
Words | Renzo Robles
Creative Concept/Director and Stylist | Nash August
Assistant Stylist | James Bryan Moral
Photographer | Roj Miguel
Videographer | Pogs Torres Francisco
Assistant Videographer | John Robin Santos
Grooming | Inoue Matsumoto
Special thanks to Superb Us Entertainment, Cheryl Rodriguez Trinidad, Chester Trinidad and Chrys Gancena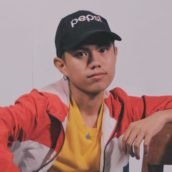 Renzneil Robles
Renzo is an introvert who prefers to do things at his own pace. Unlike most writers, he reads lazily. Watching Korean dramas at night is his constant source of comfort. Although oftentimes commended for being outspoken, he speaks better through writing than with his words.