The aboveboard Village Pipol Choice Awards (VPCA) is headway for its triennial ceremony of honoring nothing but the prime and supreme. Behind this, is the nation's trailblazer of the integrated platform, and an also highly-regarded multimedia magazine— the Village Pipol.
True to its promise as the ultimate guide to the Philippines, here comes another year of recognizing artists and their craft. And with this most trending event fast approaching, wonders and thrill surely have begun surfacing the ground.
Naming the VP Choice Awards' major categories, who will end up this year with the biggest applause?
VP Choice Awards' Spotlight of the Year
Village Pipol utilizes its leading platform to provide up-and-coming artists, influencers, or rising personalities with the chance to shine brighter. With these individuals showcasing their potentials, VP on the other hand partook in their journey as the next big thing.
Hence, VPCA's Spotlight of the Year is awarded to the sole exceptional star that stood out on the entertainment scene. One who gleamed in charisma and talent should be the most deserving.
Seth Fedelin as VPCA 2019 Spotlight of the Year
Seth Fedelin is a young actor and model who also proved he is capable of being a dancer and singer. His career as an artist started when he joined as a housemate for the reality TV show, Pinoy Big Brother: Otso.
In November 2019, he graced the cover of Village Pipol Magazine with aspirations of being an actor. Eventually, he won the first-ever VPCA's Spotlight of the Year.
Sofia Pablo as VPCA 2020 Spotlight of the Year
Former child actress and now promising teen artist Sofia Pablo is the cover for the February 2020 issue of Village Pipol magazine.
Know for her prime role in the GMA drama series "Prima Donnas,' her story focused on her brave side. During the 2020 edition of VPCA, she landed as the Spotlight of the Year titleholder.
VP Choice Awards' Cover of the Year
Village Pipol is an advocate of amplifying voices of inclusivity. Part of its undertaking is to share diverse stories of people for the entire world to hear. That is in hope of being an avenue of better change.
And this 2021, VP provided the platform for many. Following its commitment, this was another year of success that fulfilled the vow. So among the monthly issues that featured many faces of inspiration, only one will be acknowledged.
Mimiyuuuh and Benedict Cua as VPCA 2019 Cover of the Year
Perhaps, no introduction is needed for Mimiyuuh who is an icon herself. The YouTube vlogger who branded herself as 'your local jeje girl' has since then breakout from her 'dalagang Filipina' viral parody.
It was in November of 2019 when she set an image for the Village Pipol cover along with co-content creator, Benedict Cua. Together, their admirable chemistry made it to conquer the first VPCA Cover of the Year award.
Alden Richards as VPCA 2020 Cover of the Year
Alden Richards is one of this generation's most successful mainstream actors. He is also a host, singer, gamer, and entrepreneur.
For Village Pipol, December 2020 was glorious with the multimedia star being featured for the last cover of that year. It contained his heartfelt reflection on his career over the past decade.
Having to win the 2020 Cover of the Year, he is the current champ for the category.
Who will be the next big winners in the limelight this year?
At last, VPCA 2021 is coming. If you trust enough your bets to reign for the title, might as well don't let the opportunity pass without trying! Gear up for the voting period which will officially take off from February 12 up to March 5.
The prestigious Village Pipol Choice Awards will happen on March 26, 2022. So for a little while, remember to stay tuned for further updates on our social networking sites.
For sponsorship and partnership opportunities, don't hesitate to contact Josh Austria at +63919-002-4458, or at +63917 844 5981. You may also reach us out through redentertainmentph@gmail.com or vpchoiceawards@gmail.com.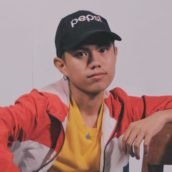 Renzneil Robles
Renzo is an introvert who prefers to do things at his own pace. Unlike most writers, he reads lazily. Watching Korean dramas at night is his constant source of comfort. Although oftentimes commended for being outspoken, he speaks better through writing than with his words.