Fashion icon Chynna Mamawal opens her first CASA store that offers affordable & quality fashion pieces
Fashion designer Chynna Mamawal brings her fashionable touch to the new clothing brand CASA which champions the superb quality of Filipino-made products at an economical price, releasing its first store on December 8 at Isetann, Recto with internationally-renowned girl group 4th Impact.
Being one of the Philippines' top fashion designers and style experts, Chynna Mamawal raises the standard of chicness in the fashion world.
Chynna Mamawal Atelier, a renowned fashion brand in the country, made a name for itself in the industry, delivering well-crafted luxury bridal gowns, bespoke suits, and evening wear.
Attaining such success, she has yet to release another breakthrough in her career. Now, she has a new venture that showcases the skills of Filipinos and the high-end touch of Chynna Mamawal at an economical price—CASA.
Wanting to offer the market something modern, stylish yet affordable, the emerging clothing line comes with the fashion flair of Chynna Mamawal in terms of the design and her signature style, but of course, standing out as a brand that is hundred percent homegrown and proudly made in the Philippines. 
The young fashion luminary has stylish ready-to-wear clothing embedded in her DNA, having a background that focuses on retail. Nevertheless, being able to enjoy the best of both worlds, Chynna is also known for her couture pieces—a testament to her versatility and adaptability.
From Php 250 to 999.75, you can have a garb designed by Chynna Mamawal at an economical price. These outfits are perfect for everyday wear—functional, comfortable, and affordable.
"I wanted to create functional and leisure pieces but at the same time very stylish ones that you can wear while going out, having dinner, or gathering with friends and family," Chynna reiterates, having a clear vision of CASA's identity.
As a stylish generation and "the future," Chynna targets Gen Z as well as Millenials and young professionals. 
Since most of the youngsters are not that financially established, as students and fresh graduates, the clothing brand is perfect to fit their distinguished fashion and not hurt their wallets. But of course, CASA welcomes everyone who wants to have comfortable, affordable, and stylish clothing.
"People should choose CASA because everything is made with love—from concept to design. My dream for CASA is to see it nationwide. That's why we're building sixty stores in the next two years. Eventually, I want it to be international," the young female entrepreneur shares her passion to finally give recognition to the amazing handiwork of Filipino-made products.
With such a promising future, CASA, as implied by its name, aims to explore furniture, plates, placemats, pillows, blankets, and other household necessities. Everything you need in a casa will be available in CASA.
Having revealed the color of the year 2023, Magenta, Chynna also share future plans on the matter.
"We will release new pieces under CASA with magenta, a color that for me, personally, brightens up your mood. We actually have a few pieces with it and I'm very excited. Bagay siya sa pants, shirts, dresses, accessories, shoes, bucket hats. So, definitely look forward to that."
Pieces from the clothing brand are now available at Isetann, Recto. You can shop very affordable garbs with the stylistic touch of Chynna Mamawal.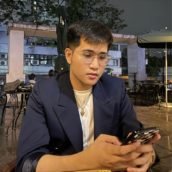 Raphael Garcia
Raphael is a person born between the generations of Millenial and Gen Z. He was produced by Cavite State University (Main Campus) with a bachelor's degree in Political Science. The lad has a fresh take on things, but can still stay true to his roots. He writes anything in Pop Culture as long as it suits his taste (if it doesn't, it's for work). He loves to wander around the cosmos and comes back with a story to publish.