The biggest local collaborations in the Philippines just landed! Bright and young designer Chynna Mamawal produces a special Premium Collection co-created with Philippine pop royalties, SB19. The collaboration became available on wearcasa.ph in limited quantities starting on April 22.
SB19 co-creates Premium Collection with designer Chynna Mamawal
The Collection
The entire collection consists of 30 looks for both men and women. The Premium Collection has three themes — WHAT?!, Streetwear, SB19 Woman, and SB19 Guys.
SB19 CO-CREATIONS
The SB19 Premium WHAT?! collection is inspired by the single released in March, representing the colors of the Philippine flag. The SB19 Premium Streetwear collection consists of unisex wearable sweats and co-ords. The famous quintet handpicked colors and silhouettes. Then, Chynna Mamawal masterfully crafted, along with her team of artisans and craftsmen. The items remain limited to 100 pieces. Aside from that, these will never be reproduced again – making it a unique collection.
SB19 SPORTY GUY
Giving spotlight to the SB19 Women, Chynna produced fourteen silhouettes that look feminine, sophisticated, and yet still very edgy. Part of the collection includes structured pieces such as trench coats, crop & pants coordinates. Aside from that, it also has athleisure pieces, jacket coords, tennis skirt set, and sporty dresses. The highlight of the womenswear collection would be a 150-piece limited edition tulle WHAT?! dresses in black, nude, and blush.
SB19 WOMEN
To top up the collection include two more sporty shirts and short coords in plain and mesh. This would be in black and white for the sporty, always-on-the-go SB19 guys.
The Creation
The current pandemic and lockdown put a lot of barriers to the creation of this collection. From meetings to designing and even to sourcing and producing became a great challenge. However, it has become an inspiration to push this project further. To give more jobs to the seamstress and craftsmen, and to continue supporting the local industry. Chynna shared:
"The design process started with a meeting between me and the SB19 team, knowing their favorite colors and the silhouettes they feel like would best represent their own personalities. Some pieces are in limited edition, primarily because of the shortage in fabric supplies during the global pandemic. So these pieces will eventually become collectibles, especially as SB19 is ready to take the global spotlight."
The Premium Box
Every order of the limited edition items comes with a black customized box, numbered label, and printed postcards with exclusive collection photos and messages that the SB19 and Chynna signed. The collection dropped at midnight on April 22nd. It currently remained exclusive at wearcasa.ph, for both local and international orders.
For more information, follow Casa on social media, fb.com/wear.casa, instagram.com/wear.casa and twitter.com/wearcasa. Visit wearcasa.co for all product information.
Casa remains a prêt-à-por·ter line of designer Chynna Mamawal featuring lounge & resortwear, and now housing the newly launched collaboration with SB19. Chynna Mamawal is a young fashion designer, popularly known for bridal and suit creations for the elite circles in the Philippines and internationally.
Fill up the order form and get yours today!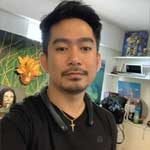 Josh Austria
Aside from being a businessman, Josh Austria has been working in PR and media industry for more more than a decade. From his years of experience as the Marketing and Advertising Head of Village Pipol Magazine, he has built strong relationships with creative people, brands, and organizations.