When in BGC: Unorthodox Things to do
To others, Bonifacio Global City, or BGC may be a city of thrill, lights, and people. When they think about the place, the top things that come to mind are clubs, bars, prestige establishments, restaurants, and the like.
While those are accurate impressions, it's different for someone who lives close to it. Other images arise – safe space, cat-hunting, and convenience store fun, to name some. These are the unorthodox things that we know BGC as; they are not that covered by the media.
Surprisingly, there is a whole array of other not-so-popular, underrated activities you can do in BGC. Take it from me who has hung out in BGC ever since junior high school. In case you want to try them, here's a curated list of unconventional things you can try when you visit BGC!
When in BGC: Unorthodox Things to do
Book hunting
One of the best places to conduct your book-hunting adventures is in BGC. This is because of the presence of Fully Booked's flagship store in Bonifacio High Street. Fully Booked BGC is a three-story paradise for bookworms; if heaven exists, this must be it!
Aside from its captivating interior and its jaw-dropping book mural, Fully Booked flaunts countless stocks of books of all genres. They also sell stationery, shirts, tote bags, and even little mugs with names on them.
Inarguably living up to their name, Fully Booked is something you shouldn't miss if you want an unorthodox experience in the city.
Awaken your inner geek
Crossing out the bookworm suggestion because you're more of an otaku, a Marvel fan, or a music connoisseur? The good news is you can still quench your yearning for these things because of the unique corners in Fully Booked for the aforesaid stuff.
For instance, if you're an avid comic figurine collector, you can find these on the bookstore's second floor.
They also sell vinyl records of vintage classics.
And, of course, all things anime!
Surely, your inner geek would rejoice with all of the choices at hand.
Playing with cats and dogs
Are you a cat lover? A dog lover? Can't decide? Luckily, BGC is a haven for both. These animals are ubiquitous in the said city, which makes it a really interesting place!
There are a lot of volunteers feeding stray kitties scattered across the place. That is probably why they're abundant. They are more commonly known as the BGC Cats. You'd find one – and even more! – in every block even when you take a little stroll. Some have really fascinating personalities, like this one who's looking at a pet shop like it has been a long dream.
This one just really enjoys a public bath.
As for the dogs, they show up for a walk every weekend accompanied by their owners. Differing sizes, leashed or not, dogs of varying breeds run across BGC's lush grass fields and its wide, open parks during this time. Bonifacio High Street, just right in front of Fully Booked, is the ideal place to accommodate their zoomies because of the spacious area. The location then becomes a dog haven when the weekends drop. Make sure to not miss out on petting the good boys and girls!
Sit and admire the 3D screen
A must-have uniquely BGC experience is to see the country's first-ever 3D LED screen in BGC. Just sitting and admiring the digital billboard is sure to instantaneously transport you to New York or Tokyo because of the contemporary feel that it exudes. It is displayed in front of One BGC Mall and thankfully, there are a lot of benches just across. If you're exhausted from your long strolls or simply want to have quality time with a very vibrant, polychromatic view, this experience is for you.
Convenience store hopping
One of BGC's secret features is the abundance of convenience stores in its vicinity. In just a few blocks, a 7/11 shows up, then a few more strolls and you're at Lawson. There is also FamilyMart and Ministop. What's more is that they offer various choices that their other branches don't have, as seen in the world's biggest FamilyMart branch located at UDENNA Tower, Rizal Drive, corner 4th Avenue. If this won't persuade you to go convenience store hopping as part of your unorthodox BGC experience, I don't know what will.
Hopefully, this list has enlightened you about the other things you can do in one of the most popular urban districts in the country. Let us know if this has expanded your bucket list in 2023!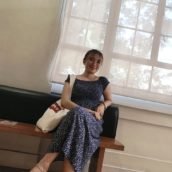 Moira Jozielle Sulit
Moira is a clumsy extroverted writer who scribbles about everything that piques her interest. That includes her own emotions, love, life, love life, music, books, you name it. Albeit reliant on her random bursts of creativity to get going at times, she is ingeniously curious and dependable, and talks to her seven cats as a stress reliever. She has found home in writing ever since she was a child and sees it as the sole legacy that her parents she barely knows has left for her.