Toni Gonzaga received criticism after featuring former senator Bongbong Marcos on her YouTube show Toni Talks.
Netizens criticized the actress-host's vlog posted last Monday, September 13, for giving Bongbong a platform online.
He is the son of former president Ferdinand Marcos, Sr., infamous for declaring Martial Law in the Philippines from 1972 to 1981.
Bongbong, on the other hand, became a vice-presidential candidate in the 2016 elections.
He became known for filing electoral protests against the victory of Vice President Leni Robredo.
However, the Supreme Court unanimously dismissed his appeals.
The vlog, which talked of Bongbong's learnings from his father, became a trending Twitter topic on Tuesday, September 14.
One netizen grew irate to the Kapamilya star for giving someone like Bongbong a platform to take back their power.
Another Twitter user asked why Toni would romanticize Bongbong's father, who they said was a dictator.
One user berated Toni for telling her viewers that Bongbong "needs no introduction."
They created their own introduction, reminding people of his numerous electoral protests during the pandemic.
Another netizen said the vlog was not about giving Bongbong another platform.
They said it was Toni "actively participating in historical revisionism" after Bongbong talked positively of his father.
One user got angry after Bongbong quoted the Taylor Swift song "Shake It Off," specifically the lyrics "Haters gonna hate."
She said,
CAN PROBLEMATIC STATE FORCES/POLITICIANS NOT USE TAYLOR AS PART OF THEIR PROPAGANDA?? PLS KEEP TAYLOR OUT OF YOUR MOUTHS. I AM DEEPLY OFFENDED."
As of writing, Toni's vlog featuring Bongbong has over 730,000 views on YouTube.
What do you think of Toni interviewing the former senator? Let us know!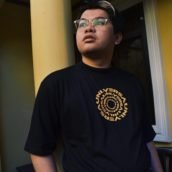 Kobe Adam Joshua Laurena
Kobe Adam Joshua Laurena is a writer who loves to tell stories from the perspectives of different people and everyday life. Apart from the pen, he loves to pick up the lipstick to transform into his frustrated drag persona: Anita Good Lovin'. He aspires to combine his love for writing and drag by creating a novel, short story, or screenplay about local drag queens in the future. He also has an obsession with sitcoms, women's pro-wrestling, and Funko Pops.