Any K-drama fan knows who Song Hye Kyo is. With 24 years of being a household name, she's currently the fifth biggest Korean actress in terms of income for 2020. Meanwhile, Forbes announced that she was top 6 in Korea's Power Celebrity List way back in 2018. There's no doubt in that since she had a lot of great hit series namely Autumn in My Heart, Full House, and Descendants in the Sun!
Song Hye Kyo's breathtaking beauty and gentle personality matches with high-end brand Fendi
With a gorgeous face that seems forever young, Hye Kyo successfully landed a partnership with a famous luxury brand. According to Soompi, a source from Fendi shared the reason why they chose the Hallyu Queen. "Song Hye Kyo is this generation's icon of a beauty that embodies gentleness, strength, and a confident attitude. She goes well with the values that Fendi appreciates."
Apparently, Song Hye Kyo fashionably showcased the partnership in Harper's Bazaar's March issue. She also gave a statement as Fendi's newest brand ambassador. "I am very happy to become a member of the Fendi family and represent the brand. I am looking forward to the journey together with the brand in the future."
In her Harper's Bazaar interview, the actress shared that she never stops pushing herself to go out of her comfort zone. "Although things look fancy on the outside when I'm abroad working with respectable directors and actors, it wasn't easy being in their culture with imperfect language skills. However, I think that I have come my way well because it wasn't always because someone pushed me to do it, and in the end, I have done the works I want to do. Nevertheless, it is still lacking. The more you act, the more difficult it is." she said.
As a model, Hye Kyo has already achieved a lot in the international scene. She is the Asia-Pacific ambassadress for the high-end French jewelry brand Chaumet. Aside from that, she is the face of cosmetic brand Laneige for a decade. Also, this Korean superstar became a part of a fashion film for Bottega Veneta's 2020 spring collection.
Her skin and milestones are definitely goals!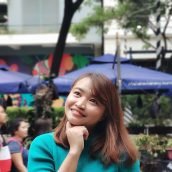 Queenie Lastra
Queenie Lasta got her bachelor's degree in Communications Research from UP Diliman. In her free time, she likes to read thriller novels, psychology books, and mangas. She believes in the importance of grit, hard work, and passion to become a great writer in the future.