It's undeniable that Maleficent and its sequel were a global success. As a result, the House of Mouse is now betting big bucks on its classic villains. And rightfully so. Disney has decades' worth of antagonists under their name. And now they've chosen to give the live-action treatment to its most fashionable one — Cruella de Vil.

Who in the world is Cruella de Vil?
Cruella de Vil is the main antagonist of the The Hundred and One Dalmatians children's books series by Dodie Smith.
Courtesy of Walt Disney Studios
In 1961, Walt Disney Productions adapted the first book into its 17th animated film 101 Dalmations.
Subsequently, the animated film was made into a live-action movie in 1996. It starred Jeff Daniels, Joely Richardson, and Glenn Close as Cruella.
Courtesy of Walt Disney Studios
In the books, Cruella is very rich. She is shown to be fixated on fur clothing. Her unhealthy desire for this fashion statement finds her marrying a furrier so she could wear them whenever she wants.
Meanwhile, in Disney's animated film, Cruella is a spoiled heiress who worships fur. This translated certainly well into live-action, with Glenn Close's initial theatrical performance.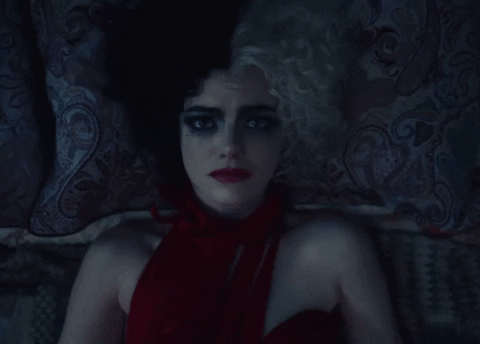 Courtesy of Walt Disney Studios
Cruella de Vil is an exciting character because the story she's set in is the modern world. That is to say, compared to most of Disney's well-loved villains, she isn't from a fairy tale. This comes with a certain level of relatability because her character could literally be someone we can meet in real life.
If you remember, Maleficent was retconned as someone who isn't really evil. For Cruella, the movie would play with her coming into terms as the mischievous fashionista who's fur-obsessed. Most importantly, this adds depth to her one-sided villainy.
Courtesy of Walt Disney Studios
Cruella is brilliant, bad, and a little mad
Disney has finally released the official trailer for Cruella after more than a year it was first announced. The movie stars Emma Stone (La La Land, Zombieland, The Amazing Spider-Man) in the titular role. It's directed by Craig Gillespie (I, Tonya, The Finest Hours, Million Dollar Arm).
In the trailer, we see dark undertones for the character despite it being a Walt Disney property. That's a really good sign. Cruella de Vil is a character that's known for kidnapping, attempted murder, and skinning puppies just for ✨ aesthetics ✨.
In other words, making her less desirable as a villain (if that makes sense) would be a grave injustice.
Courtesy of Walt Disney Studios
The description on the video posted by Walt Disney Studios says Cruella will be set in 1970s London, during the punk rock revolution. Hopefully it'll give us an explanation about her two-toned hair color.
Cruella follows a young grifter named Estella. She's a clever and creative girl determined to make a name for herself with her designs. She befriends a pair of young thieves who appreciate her appetite for mischief, and together they are able to build a life for themselves on the London streets. One day, Estella's flair for fashion catches the eye of the Baroness von Hellman, a fashion legend who is devastatingly chic and terrifyingly haute. However, their relationship sets in motion a course of events and revelations that will cause Estella to embrace her wicked side and become the raucous, fashionable and revenge-bent Cruella.
Courtesy of Walt Disney Studios
Cruella is scheduled to be shown on May 28, 2021. However, the trailer doesn't specify if it'll be released in theaters, be streamed on Disney+, or both.
It's a cruel world. Hide your puppies, fur parents! Cruella is coming soon.
For movie, series, and trailer updates, check out more of the author's works here.
All GIFs used in this article were made from giphy.com. Clips are taken from the 'Cruella' trailer.
The featured image is courtesy of Walt Disney Studios.
Lord Harvey Monteroso
Having graduated from Xavier University-Ateneo de Cagayan with a Bachelor of Science degree in Psychology, Lord Harvey Monteroso doesn't shy away from using words to create visual images when he writes. He also makes sure to add humor with his in-depth analyses when writing movie/trailer/tv series/music video/song reactions and reviews.