Back at it again to conquer the big screen, Nadine Lustre is sending everyone chills down their spine as she stars in an anticipating psychological horror movie.
On September 26, the actress, singer, and influencer shook the internet after the trailer release of her upcoming piece called "Deleter." Here, Lustre impressed the netizens with bits of her impressive acting skills matching her newest show's inch-resting plotline.
According to an exclusive report by Variety, the techno-horror film Deleter will tell the story of Nadine Lustre as Lyra. She is a desensitized employee of an online content moderation office tasked with filtering unsettling content before it reaches social media platforms. However, upon deleting the suicide video of her co-worker, Lyra's troubling past and trauma disturbs her present.
Inspiring Deleter is the actual profession of removing graphic content to ensure a safer feed for internet users. Mikhail Red, who is behind the previous thriller flicks "Eerie," "Arisaka," and "Dead Kids," directs the movie in aiming to explore the psyche and the shady line of work.
On the other hand, joining Lustre in Deleter are Louise Delos Reyes and McCoy de Leon. It will be Lustre's second horror movie this year after her earlier performance in "Greed" in April. Wherein the 28-year-old star received praise for owning her challenging character.
Director Red collaborated for the first time with Viva Films to produce this newest creation. With production to wrap up by the end of September, Deleter targets to release later this 2022— in time for film festivals until the first quarter of 2023.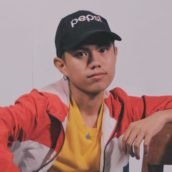 Renzneil Robles
Renzo is an introvert who prefers to do things at his own pace. Unlike most writers, he reads lazily. Watching Korean dramas at night is his constant source of comfort. Although oftentimes commended for being outspoken, he speaks better through writing than with his words.