Jericho Rosales, wife Kim Jones build houses for victims of Typhoon Ulysses
Jericho Rosales and his wife Kim Jones helped victims of Typhoon Ulysses in Cagayan by building them homes.
This comes after the said typhoon ravaged Metro Manila and other parts of Luzon last November 2020.
Last Sunday, October 17, the actor took to Instagram shared Instagram photos of the 20-unit housing project he began.
He spearheaded the project alongside Jones and his manager-adviser Marinez Elizalde.
In the caption for the photos, Jericho expressed gratitude to everyone who helped him with the project.
He wrote,
"It's been almost a year since Typhoon Ulysses devastated many parts of our country including Marikina and Cagayan. We're happy to share that with the help of one of the best titas of Manila [Marinez Elizalde], our friends [who are] too many to mention, and you who donated to the cause, Ulysses Relief Fund [was] also able to help build 20 houses for 20 families to Project Salinong in Baggao, Cagayan! The recipients are very grateful!"
Jericho's celebrity colleagues like Carmen Soo, Ryan Agoncillo, and Ria Atayde all applauded him for his efforts.
Typhoon Ulysses killed people and destroyed homes when it hit the Philippines last November 2020.
Back then, Jericho and Kim helped rescued residents trapped in their homes in their subdivision in Marikina City.
The couple used their surfboards during the rescue to be used as flotation devices.
Also, they began a crowd-funding page to start relief efforts for victims of the typhoon.
The relief efforts have raised over P3,300,000, which they used for food, medicine, water, hygiene kits, and clothing.
Thank you for your efforts, Jericho and Kim! This is a big help for the victims of Typhoon Ulysses!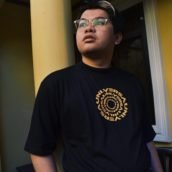 Kobe Adam Joshua Laurena
Kobe Adam Joshua Laurena is a writer who loves to tell stories from the perspectives of different people and everyday life. Apart from the pen, he loves to pick up the lipstick to transform into his frustrated drag persona: Anita Good Lovin'. He aspires to combine his love for writing and drag by creating a novel, short story, or screenplay about local drag queens in the future. He also has an obsession with sitcoms, women's pro-wrestling, and Funko Pops.