The Village Pipol Choice Awards (VPCA) is again coming after a long wait. And for the third time, Casino Filipino is the official presenter of this trending event to happen on March 26, 2022.
Behind this prestige, is the highly-regarded Village Pipol Magazine. It aims to annually honor the exceptionally reigning prime and supreme. Case in point, it shall recognize the brightest stars, the excelling brands, and individuals who proved the brilliance of their craft.
So far in its existence, the Village Pipol Choice Awards is consistently a success. Not to mention, it is the biggest gathering of stars from the travel, lifestyle, and entertainment industries.
Village Pipol does not only use its platform to provide chances for aspiring personalities to shine. More importantly, we genuinely advocate for inclusivity by sharing diverse stories of people for the world to hear.
The voting period will begin on February 12 until March 05. Moreover, winners will be determined through an ever fair and transparent voting system. 30% will come from Facebook shares, 20% from Instagram likes, 30% from the editorial team, and 20% from our panel of judges.
While we are still facing the challenges of the new normal, the Village Pipol Choice Awards will be digitally held this year. Will your favorites end up as the next big winner? They must! Tune in for further announcements on our social networking sites.
For sponsorship and partnership opportunities, contact Josh Austria at +63919-002-4458, or +63917 844 5981. You may also reach us at redentertainmentph@gmail.com or vpchoiceawards@gmail.com.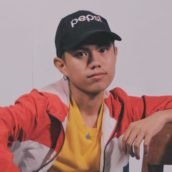 Renzneil Robles
Renzo is an introvert who prefers to do things at his own pace. Unlike most writers, he reads lazily. Watching Korean dramas at night is his constant source of comfort. Although oftentimes commended for being outspoken, he speaks better through writing than with his words.