Village Pipol Choice Awards 2021: Who will be hailed as the Love Team of the Year?
The aboveboard Village Pipol Choice Awards (VPCA) is headway for its triennial ceremony of honoring nothing but the prime and supreme. Behind this, is the nation's trailblazer of the integrated platform, and an also highly-regarded multimedia magazine— the Village Pipol.
True to its promise as the ultimate guide to the Philippines, here comes another year of recognizing artists and their craft. And with this most trending event fast approaching, wonders and thrill surely have begun surfacing the ground.
Whose matching will be named as this year's most favored Love Team?
VPCA's Love Team of the Year
Besides the challenges brought by the pandemic, 2021 was also a time the showbiz industry gets back to its feet. Considering the loss from the 2020 COVID-19 crisis, this year was only the right time for entertainment's revival.
Hence, it is not an exaggeration to say that exposure for any celebrity has now been more important than ever. And to recognize such effort, VPCA is here for that!
Village Pipol presents the Love Team of the Year award.
This goes to the best pair seen on television series and movie projects. With a natural onscreen and off-screen chemistry, they shall become the absolute talk of the town.
MAYWARD as the 2019 LTOTY Winner
Apart from being the name of its fandom, 'MayWard' also stands for the love team between Maymay Entrata and Edward Barber. The pairing sprung from the 13th overall season of ABS-CBN's 2016 reality TV show, Pinoy Big Brother.
In this teen edition, also called PBB: Lucky 7, both Maymay and Edward were housemates. The former was declared the big winner and they had their chemistry continued even after the show, which many loved.
So in 2019, MayWard was nominated for VPCA's Love Team of the Year. After a competitive fight from their solid support, they outdid five other contenders thus, clinching the title.
KYCINE as the 2020 LTOTY Winner
Also home to ABS-CBN Network, 'KyCine' is a portmanteau for young artists Kyle Echhari and Francine Diaz. If their names ring a bell, it's because they are cast for the much talked about drama series, 'Kadenang Ginto.'
Rather new compare to most love teams at that time, KyCine started in 2018. In fact, another pairing from the same show 'SethDrea' (from Seth Fedelin and Andrea Brilliantes) vied for VPCA 2020 nomination.
KyCine won the Love Team of the Year following a period of fierce voting. They are the second, and the latest winner of the category so far.
Who will become the VPCA's Love Team of 2021?
Now, VPCA 2021 is coming. If you are confident that your admired love team is much deserving, then don't let the opportunity pass without trying!
The nomination begins this 26th of December ending on January 26, 2022, with the final list to be announced on February 5, 2022. Each category will only have six nominees.
Moreover, voting will officially take off starting next year from February 12 up to March 5.
The prestigious Village Pipol Choice Awards will happen on March 26, 2022. For now, remember to stay tuned for further updates on our social networking sites.
For sponsorship and partnership opportunities, please don't hesitate to contact Josh Austria at +63919-002-4458 or +63917 844 5981. You may also reach us out through redentertainmentph@gmail.com or vpchoiceawards@gmail.com.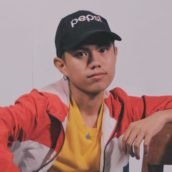 Renzneil Robles
Renzo is an introvert who prefers to do things at his own pace. Unlike most writers, he reads lazily. Watching Korean dramas at night is his constant source of comfort. Although oftentimes commended for being outspoken, he speaks better through writing than with his words.