The title 'Best Island in Asia' goes to Cebu!
Because of its strategic and economic importance to the country, Filipinos hailed Cebu as the "Queen City of the South". It's one of the most abundant cities here. No wonder millions of tourists visit Cebu and explores its culture, pristine beaches, and mouthwatering delicacies!
Why does Cebu deserve to be the best island in Asia?
Just recently, Condé Nast Traveler's Readers' Choice Awards have chosen Cebu as the Best Island in Asia! So is it a big deal? Well, the Condé Nast Traveler's Readers' Choice Awards is quite famous among travelers, hotel and resort owners, and everyone in the tourism industry. This is basically like the Emmy or Oscars Award, but for places.
As a matter of fact, it's not the first time that the Philippines caught the eye of this most prestigious award season. For many years, some of our islands here have taken the top spots. The Best Islands in the World: 2020 Readers' Choice Awards category is divided per continent. Cebu is not the only that made into the lost. Palawan and Siargao made it to the top five, grabbing the fourth and fifth spots respectively. Meanwhile, the Ko Pha Ngan in Thailand and Sri Lanka were able to enter the ranking.
For Cebu's citation, Caitlin Morton wrote, "Located in the center of the Philippines, Cebu draws nearly 2 million travelers annually for its pristine beaches and diving off the island's northern coast. Spanish and Roman Catholic influences permeate Cebu City; Basilica Minore del Santo Niño houses a small statue of Christ that was presented by Ferdinand Magellan."
Condé Nast Traveler recognized the beauty of other islands here
Last year, Boracay ranked first while Cebu and Palawan came in second and fourth, respectively.  In 2018, the list of Asia's best included Siargao on number one as a newcomer.
There are other tourist spots that gained recognition during the awards: El Nido Resorts' Apulit Island (18th place), El Nido Resorts' Lagen Island (23rd place), and El Nido Resorts' Pangulasian Island (25th place) for Top 30 Resorts in Asia; and Raffles Makati (fourth place) for Top 20 Hotels in Asia.
The Department of Tourism Bernadette Romulo-Puyat said this about the recognition, "With over 7,641 islands in our archipelago, there are still so many left for nature-loving travelers to discover. In our journey towards tourism revival, sustainable and responsible tourism development shall continue to be one of the DOT's core principles, just like how it has always been in the past few years."
According to Condé Nast Traveler, the names in this year's edition are the ones that brought comfort and connection. These are the ones that got you through the months without travel."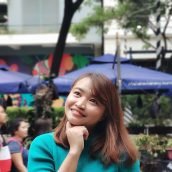 Queenie Lastra
Queenie Lasta got her bachelor's degree in Communications Research from UP Diliman. In her free time, she likes to read thriller novels, psychology books, and mangas. She believes in the importance of grit, hard work, and passion to become a great writer in the future.