As we now are transitioning back to work and other things, some of you might want to have a vacation soon. Well, this might interest you: Filipinos prefer traveling to nearby destinations once the government allows leisure activities.
The silver lining lies with domestic travelers
The survey is titled The Philippine Travel Survey Report: Insights on Filipino Travelers' Sentiments on the New Normal. The Department of Tourism (DOT) conducted it together with the Asian Institute of Management (AIM) and the online tourism marketplace. The study had a forecast that domestic travel would revive the country's tourism industry once there's no restriction from the government.
In the survey, most respondents want to travel to nearby destinations once the government allows it during the pandemic crisis. As an example, the majority of those living in Metro Manila and Luzon want to go to Baguio, La Union, El Nido, Bicol, and Palawan. Meanwhile, respondents from the Visayas prefer traveling to Boracay, Cebu, Iloilo, and Bohol. The residents from Mindanao have a preference for places like Cagayan de Oro, Davao, and Siargao.
Traveling during the new normal
Moreover, Boracay was the top choice among tourist destination once the authorities allow leisure travel. Both Siargao and Baguio came in second place. Other places that respondents mentioned were Metro Manila, Cebu, El Nido, Coron, Batangas, Bohol, and La Union. Those who answered the survey would either prefer going to the beach,  have road trips or enjoy staycations. Almost half of them are hopeful to travel within six months once the government lifted restrictions.
Aside from those statements, they also prefer availing tourism activities wherein they can isolate themselves. This includes staying in a hotel or resort, solo travel, or backpacking, going on a private guided tour. The survey added that they would rather be with family or friends than mingle with strangers
DOT assistant secretary Roberto Alabado III believes that domestic tourism could probably begin next year. He also added that local tourists might want their next travel to be memorable and filled with experience. Alabado said, "For instance, they would venture into cultural tourism because they want the experience… also, there are opportunities for farm tourism where they could learn about healthy food and wellness and learn new skills, or try nature-based tourism where they could practice fitness and healthy living."
If you're living somewhere in Metro Manila, you don't need to go far for fun things to do. You and your friends can have a quick historical trip to the National Museum, Fort Santiago, or Luneta Park. Want to be fit? The Quezon Memorial Circle, Acad Oval, and SM MOA are the perfect places for you. Foodies gonna love Binondo, Maginhawa in QC, and Kapitloyo in Pasig.
What about your travel plans?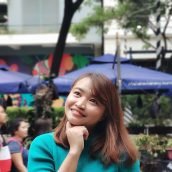 Queenie Lastra
Queenie Lasta got her bachelor's degree in Communications Research from UP Diliman. In her free time, she likes to read thriller novels, psychology books, and mangas. She believes in the importance of grit, hard work, and passion to become a great writer in the future.