Ilocos Norte Tourism/Facebook
After months of quarantine, many Filipinos are longing to go somewhere and take a short vacation. Thankfully, the government is slowly opening up the economy, including local tourism. More tourist destinations are opening up such as Boracay, Tagaytay, and Baguio. This coming October 15, Ilocos Norte will start accepting tourists!
Requirements to visit Ilocos Norte
Yes, you heard it right! You can go on a road trip to Ilocos Norte very soon. But take note that it will be open for residents from Luzon, including Metro Manila only. The Department of Tourism Secretary Bernadette Romulo-Puyat said in a statement,
"We're elated with the decision of Governor Manotoc to finally welcome visitors from Luzon to Ilocos Norte, even those coming from areas that are still under general community quarantine. The province's success in managing the number of COVID-19 cases, not to mention an array of cultural sites, natural attractions, and fun activities make it really worth the long drive for people looking for a cure for their cabin fever."
However, the limit for visitors per day is a maximum of 50 people. There will be an online platform as a visitor management system. They will also require tourists to undergo an RT-PCR or swab test at least 48 hours before travel to make sure that they are virus-free.
Wearing of face masks and face shields, as well as physical distancing, are still mandatory in public spaces. More than 200 hotels and resorts have already got their certificates of authority after checking that they have complied with health and safety standards.
Last October 1, Ilocos Norte was open for tourists coming from Ilocos Sur, La Union, Pangasinan, and Baguio City. Currently, the province is managing the COVID-19 cases very well with only 14 active cases, 109 recovered patients, and one death as of October 11.
This is good news for the tourism business of Ilocos Norte. But then, we should keep in mind that discipline and cooperation is always a must.
Do you guys agree?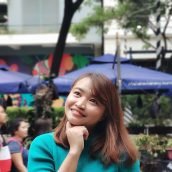 Queenie Lastra
Queenie Lasta got her bachelor's degree in Communications Research from UP Diliman. In her free time, she likes to read thriller novels, psychology books, and mangas. She believes in the importance of grit, hard work, and passion to become a great writer in the future.