The Origins of The Pin-Up Girl
My significant other and I had a great time strolling around in a tank museum. Stunning metal objects are obviously deserving of numerous photographs, and how could I resist not posing next to one? A few clicks here and there he blurts "You look like a pin-up girl."
Combining sex appeal with quirky charms, pin-up girls reveal a story about how war, markets, and sexuality shape society and norms. These pin-up girls broke the mold in 20th-century America, from innocent lingerie modeling to fetish photoshoots. Marilyn Monroe and Betty Grable, two of the most famous pin-up girls of the 1940s and 1950s, were notorious for attracting attention in sexy photographs.
Why pin-up girls were originated
Pin-up girls, to put it simply, are very attractive women who model and whose commercially produced images have widespread appeal in popular culture. Pin-ups can be portrayed in other media besides photographs, such as paintings, drawings, and other kinds of illustrations. They were created to inspire and boost men's morale while they were at war. In the past, soldiers would put pictures of pin-up models on their lockers, walls, and wallets.
While the original pin-up was created as a morale-booster for soldiers and other war-weary individuals, the pin-up girls would later develop a more sexualized reputation in the 1950s. Appearing in all kinds of media, including advertisements, magazines, and motion pictures. These artworks and images frequently depicted an hourglass-shaped woman of average height and weight posing in a way that was sexual in nature but not overtly explicit.
Few popular pin-up girls
Posing for these photos was an opportunity for the pin-up girls to contribute to the war, explore their sexuality, and possibly break into the film business. So, even after the war, many models continued to pose for pin-ups in the hopes of becoming famous and wealthy. The vast majority were given opportunities and went on to become celebrities as a result.
Here are some famous pin-up girls that debuted in the film industry as well.
Bettie Page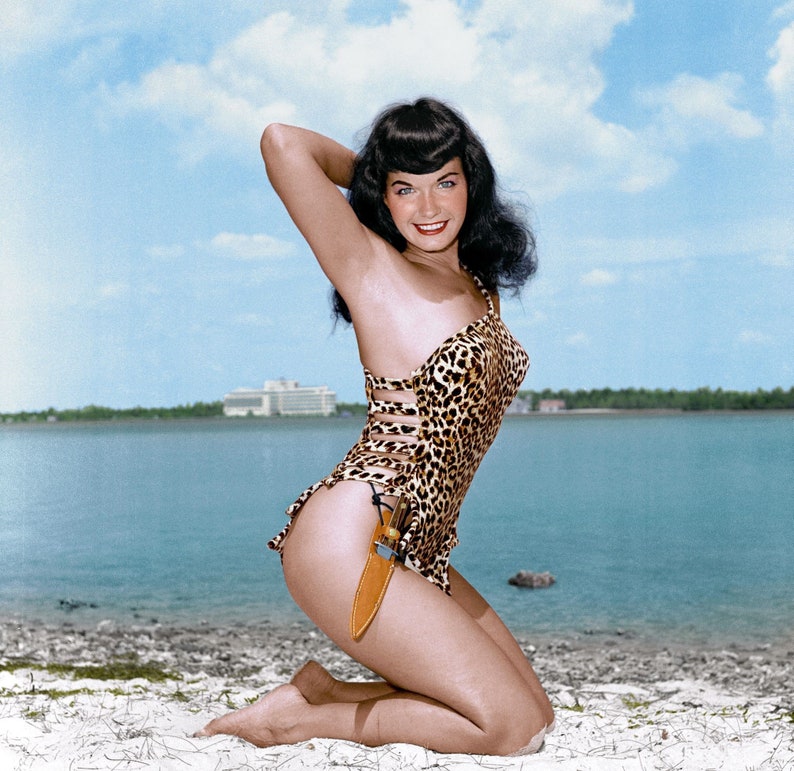 Bettie Page was a popular pin-up model in the United States. She was one of the first pin-up girls to emerge in the 1950s. Bettie happened to cross paths with Jerry Tibbs, a cop who loved photography, in 1950 while strolling along the Coney Island shore in New York City.
Her long jet-black hair, blue eyes, and trademark bangs earned her the title "Queen of Pinups," and she influenced artists for generations.
Jayne Mansfield
Vera Jayne Palmer, later known as Jayne Mansfield made a breakthrough as a pin-up girl. Although her dream is to become a well-known Hollywood actress, she struggles to get into the entertainment industry.
She allegedly had a genius IQ of 160, but few people were aware of this. She emphasized maintaining the "dumb blonde" stereotype, probably because it was so extremely profitable at the time.
Diana Dors
Diana Dors appeared to be a star waiting to happen and she maintained her starlet status all throughout. As a movie enthusiast, Dors was very diligent about her career ambitions and day-breaking into the film industry. With her beauty, she had no problem becoming a pin-up girl and posing older than her age.
She was one of the pinup girls who began modeling much earlier than was appropriate for her age. She did so with the intention of one day getting into the film industry. In retrospect, she admitted, "I based my career on men, sex, and money, in that order."
Bethy Grable
Betty Grable was without a doubt one of the most popular pinup girls during World War II. Grable, nicknamed "the girl with the million-dollar legs," once literally insured her legs for a million dollars.
She entered the acting business as a result of her newfound popularity as the American servicemen's favorite pin-up girl of her time. Although she began with small roles, Grable eventually rose to the position of the highest-paid star in Hollywood in the late 1940s.
Jane Russel
Ernestine Jane Geraldine Russell, later known as Jane Russell, was born into a wealthy family; her parents were an Army lieutenant father and an actress mother. She had the opportunity not most of the pin-up girls already had.
After being scouted to join the film industry, she was arranged in pin-up girl photoshoots, which were particularly popular in the U.S. Navy. In a 1943 poll, the Navy named her "the girl we'd like to have waiting for us in every port."
Marilyn Monroe
Not everyone had a good upbringing; Marilyn Monroe, who went on to become one of the most iconic stars of all time, had a rough childhood. Monroe spent a significant amount of time in foster homes and orphanages. She was forced to marry in order to avoid being placed in an orphanage.
Later on, during WWII, a photographer discovered her to be a pin-up girl, and she quickly signed a film contract with 20th Century Fox. She bleached her brown hair blonde and used her grandmother's last name.
Monroe rose from being a top pinup model to becoming one of the world's most famous celebrities. Her shine, however, faded quickly. Her childhood trauma followed her throughout her life, and she turned to drugs and alcohol to cope with the excruciating emotional pain.
Although the golden era of pin-up models is over, the pin-up aesthetic is still alive and well. In recent years, photos inspired by pin-ups have been taken by contemporary burlesque performers and even a few mainstream celebrities. And it's no secret that celebrities like Marilyn Monroe and other pin-up icons continue to be an inspiration today.
Joyce Margaux Baniqued
Joyce Margaux is a driven journalism student looking to improve her writing abilities and become a better version of herself. When it comes to duties being completed, she values time management and consistency. She considers herself as a responsible and orderly person that yearns to live the best life