Rabiya Mateo paid homage to the national colors of the Philippines in a recent photoshoot.
Last Monday, September 27, the reigning Miss Universe Philippines shared Instagram photos of herself wearing different gowns.
Each gown, colored blue, yellow, and red, manifested a message about the national colors.
For the red dress designed by Carl Arcusa, Rabiya said it represented bravery and grit, writing,
"PULA. I wish for bravery and grit on days when you feel like giving up,"
With the GL Garlate gown donning yellow and white colors, she felt it represents light among the dark days.
On the other hand, her blue Garlate gown represented peace.
"BUGHAW. I wish for peace and overwhelming calm to envelope your day."
During the pictorial, Stephen Capuchino photographed Rabiya, while make-up and creative direction was done by Justine Navato,
Moreover, Jobo Nacpil did art direction, while Kenneth Ramil and Karl Dioso did the styling.
Jay Aquino did her hair while Drake Ibay provided the accessories.
Rabiya posted the alluring shots leading up to the coronation night for the 2021 Miss Universe Philippines.
Furthermore, she will crown her successor during the event on September 30.
Additionally, the crowned titleholder will represent the country in the 2021 Miss Universe this December 2021.
The international pageant will take place in Eliat, Israel.
Previously, Rabiya competed in the Miss Universe 2020 pageant, finishing in Top 21.
She continued the Philippines' streak of having a spot at the pageant's semi-finals.
You look stunning, Rabiya! Thank you for a glamorous reign as Miss Universe Philippines!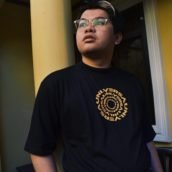 Kobe Adam Joshua Laurena
Kobe Adam Joshua Laurena is a writer who loves to tell stories from the perspectives of different people and everyday life. Apart from the pen, he loves to pick up the lipstick to transform into his frustrated drag persona: Anita Good Lovin'. He aspires to combine his love for writing and drag by creating a novel, short story, or screenplay about local drag queens in the future. He also has an obsession with sitcoms, women's pro-wrestling, and Funko Pops.