NCT 127 will hold a concert in Manila as part of their NEO CITY: THE LINK Tour. The concert will take place at the Mall of Asia (MOA) Arena on September 4 at 5 PM. The promoter, PULP Live World, officially announced the event last August 12. The group's tour began last December in South Korea followed by Singapore and Japan.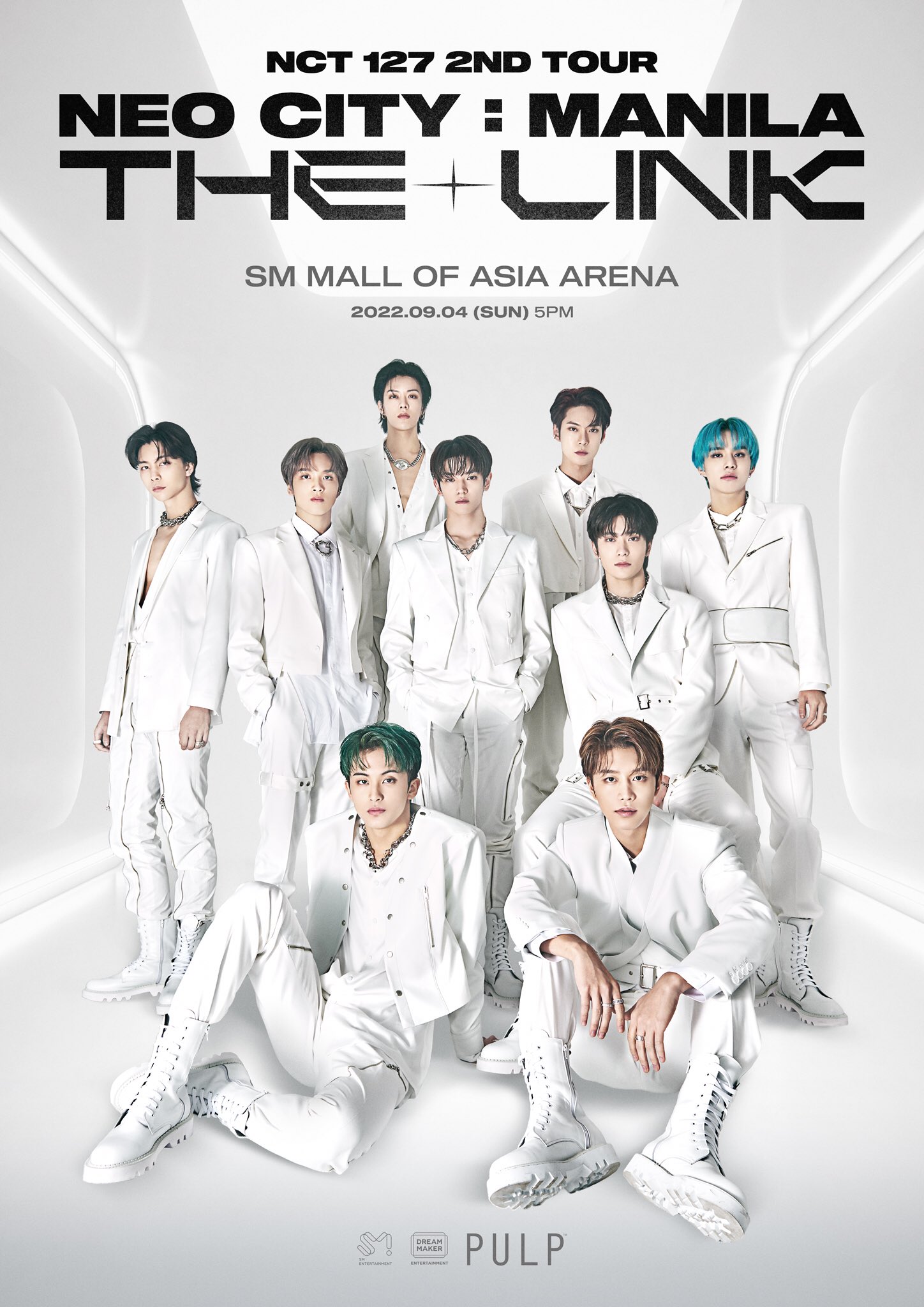 PULP also released the seating plan and ticket prices for the said concert: PHP 12,000 (Standing and VIP Seated), PHP 7,500 (Upper Box), PHP 4,500 (General Admission), and PHP 3,500 (Generic). The ticket selling will begin on August 21 at 12 PM in all SM Tickets Outlets nationwide and online via http://smtickets.com.
This will be the first solo concert of NCT 127 in the Philippines after their performance at K-Pop World Music Festival 2019 last June 9 at the MOA Arena together with Red Velvet, ELRIS, Kim Dong Han, and Sohee.
Who is NCT 127?
NCT 127 is a South Korean boy group formed and managed by SM Entertainment. The group is the first fixed unit and second overall sub-unit of NCT.
NCT 127 is composed of 9 active members namely Taeil, Johnny, Taeyong, Yuta, Doyoung, Jaehyun, Jungwoo, Mark, and Haechan. The group also includes Winwin but is more active in NCT's other sub-unit, WayV since 2018.
The K-Pop group makes different music genres since 2016 with their debut song Firetruck. Their songs incorporate K-Pop, R&B, Hip-hop, and EDM. Since then, NCT 127 became famously known as K-Pop's Kings of 'Noise.'
Moreover, NCT 127 won its first Daesang award for Artist of the Year at the 31st Seoul Music Awards. As well as bagging numerous recognitions at the Golden Disc Award and Mnet Asian Music Award.
NCT 127 became the first K-Pop artist that spent 14 weeks on Billboard 200 with their 2021 studio album Sticker. Naver reports that the group surpassed 2.12 million pre-orders before the album was released. They also hold the record for being SM Entertainment's all-time best-selling album in terms of pre-orders.
See Also
What's next for NCT 127?
NCT 127 is currently preparing to return with a new album this September according to Sports Chosun.
After the recent reports, SM Entertainment confirmed the group's comeback with a statement they released last August 8. SM Entertainment stated in their statement.
"NCT 127 is currently filming their new music video, and they are preparing a new album with an aim to make a September comeback. Please look forward to it."
This will be the group's first album after their last comeback with the repackaged album "Favorite" in October 2021.
Janelle Kyla Liong
Janelle is a full-time K-Pop fan but is also an active campus journalist since elementary. She loves to watch movies, but television series have a special place in her heart. She is also into romantic-comedy and the slice-of-life genres.