Victoria Vincent, the newly-crowned 2021 Miss Universe Philippines Charity, revealed an offer she had after the pageant.
On Instagram, last Monday, October 11, Vincent revealed she rejected an offer to be Miss Universe New Zealand.
She added how she was given the offer "shortly after" the Miss Universe Philippines pageant last September 30.
Vincent said,
"After a week of contemplation, countless discussions with my family, friends, and team, I eventually came to the decision to politely decline the offer."
Moreover, she knew some people might call her "crazy" for not accepting the offer.
"So many people will say I'm crazy for turning down this opportunity, but I had to choose what I know in my heart was the right thing to do.,"
Furthermore, Vincent reveals having her heart in the Philippines as the reason behind her declining the offer.
"My heart is, and always will be here to serve the Philippines. Some may say I'm not Filipina enough, and that's ok. I know who I am. I know what I stand for, [and] I am a Filipina."
She concluded her post by thanking Miss Universe New Zealand for the opportunity.
Also, she expressed gratitude for Miss Universe Philippines and excitement for what the future holds.
"I am so excited to see what the future holds for us, Philippines."
Vincent bagged the title of Miss Universe Philippines Charity after representing Cavite in the pageant.
Moreover, Beatrice Gomez from Cebu City got crowned the Miss Universe Philippines 2021.
She will represent the Philippines in the Miss Universe pageant in Israel this December 2021.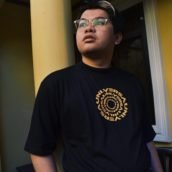 Kobe Adam Joshua Laurena
Kobe Adam Joshua Laurena is a writer who loves to tell stories from the perspectives of different people and everyday life. Apart from the pen, he loves to pick up the lipstick to transform into his frustrated drag persona: Anita Good Lovin'. He aspires to combine his love for writing and drag by creating a novel, short story, or screenplay about local drag queens in the future. He also has an obsession with sitcoms, women's pro-wrestling, and Funko Pops.