LJ Reyes explained how she is working on forgiving Paolo Contis after confirming their break-up last month.
A work in progress
The GMA actress currently takes slow steps into her journey to forgiveness, as she revealed in an exclusive 24 Oras report last Tuesday, October 12.
She told entertainment reporter Nelson Canlas,
"Forgiveness is a work in progress, you know? Hindi madaling ibigay ang forgiveness, 'di ba? I mean, lahat naman tayo, we get hurt, we get angry, you know? But, you work on it every day. You forgive people. To forgive yourself or whoever. You pray about it. For me, hindi kasi siya madaling bagay na ibigay, so surrender lang talaga kay God and I'm working on it."
God-given strength
In the midst of speculations about her separation from Contis, LJ flew to New York with her children last August.
Currently, she stays with her family members, who are based in the state.
"I've been always vocal about it that if it weren't because of God, 'yong binibigay sa'king strength ni God, it wouldn't have been possible. Hindi ko rin inakala na nandito na kami."
LJ also thanked the Filipino community in New York, who acted as her support system during her stay there.
Last August, Contis' manager Lolit Solis confirmed how the actor and LJ had a mutual split.
However, the latter disproved how the break-up was mutual.
On the other hand, Contis himself admitted on an Instagram post that she cheated on LJ.
Yet, he insisted that his A Faraway Land co-star Yen Santos should not be blamed, as she had no involvement with the break-up.
LJ and Contis have been together for six years. Together, they had one daughter named Summer.
Also, Reyes has another child, a son named Aki, who she had with actor Paulo Avelino.
Do you agree with LJ's stance on forgiveness? Let us know in the comments below!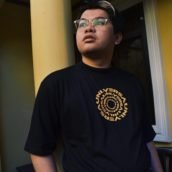 Kobe Adam Joshua Laurena
Kobe Adam Joshua Laurena is a writer who loves to tell stories from the perspectives of different people and everyday life. Apart from the pen, he loves to pick up the lipstick to transform into his frustrated drag persona: Anita Good Lovin'. He aspires to combine his love for writing and drag by creating a novel, short story, or screenplay about local drag queens in the future. He also has an obsession with sitcoms, women's pro-wrestling, and Funko Pops.