Jake Cuenca finally broke his silence over him allegedly bumping a police car last Saturday, October 9.
Previously, the actor reportedly did not stop after the incident, resulting in the police shooting his vehicle.
Fearing for his life
Jake aired his piece regarding the incident in an exclusive TV Patrol report by MJ Felipe last Tuesday, October 12.
He explained,
"For me, I was thinking, I was fearing for my life."
Additionally, Jake recalled how the policemen did not have any uniforms on, only wearing civilian clothing.
This made him had doubts when it came to doing the right thing, further saying,
"When you have civilians flagging down my car, armed civilians, flagging down my car with unmarked vehicles, my instinct talaga was to not stop, just to go forward, to just get away from trouble."
Reports have said Jake bumped the police car. However, the actor revealed he saw no trace of the bump in his car.
"Hindi ko talaga naramdaman 'yong […] side-swipe, eh. Naguguluhan din kami kung sa'n nangyari 'yong bangga, kasi in my car, there's no paint from anywhere, there's no damage to my car aside from the damage that was caused by the gunshots."
Moreover, he understands how there are police operations in the location and officers merely did their jobs.
Jake calmed down upon hearing police sirens at saw uniformed personnel who asked him to stop.
He recalled expressing shock that the police chased him, not the people who shot his car.
"I followed everything that they wanted me to do. I followed due process. Hindi ako nanlaban. Hindi ko sila pinahirapan."
Breaking speculations
Jake, also, silenced rumors of being arrested and having illegal items on his vehicle, with police searching his vehicle twice.
Furthermore, his vehicle did not collide with any people in the streets.
In addition, Jake wants to extend help to the nearby delivery rider who got shot during the encounter.
"Despite the police taking that responsibility, I also want to extend my hand. In any way, shape or form, if I can help him or his family, I'm willing to do that."
Jake had already retrieved his car from the authorities. However, he admits the entire experience traumatized him.
His vehicle sustained multiple gunshots with one shot going through his gasoline tank.
Also, he expressed gratitude to all who showed concern for him amidst the incident, especially to his father and co-actor Paulo Avelino.
Paulo defended Jake on Twitter, in the midst of growing speculations of his involvement in the incident.
He said,
"It was very traumatizing. […] Ang daming taong nag-text sa'kin, a lot of people expressed their concern and I really appreciate that, from my family, my friends, my fans, to Kylie [Verzosa], but, especially, also to my dad and Paulo who were there with me all through the experience and stood their by my side."
The Mandaluyong Police filed two complaints against Jake, specifically reckless imprudence resulting in damage of property and disobedience to persons in authority.
On the other hand, Jake said he has no plans in filing cases against the police, only hoping to resolve the issue.
What are your thoughts on Jake's side of the issue? Let us know in the comments section!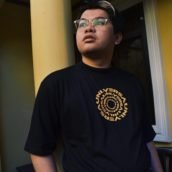 Kobe Adam Joshua Laurena
Kobe Adam Joshua Laurena is a writer who loves to tell stories from the perspectives of different people and everyday life. Apart from the pen, he loves to pick up the lipstick to transform into his frustrated drag persona: Anita Good Lovin'. He aspires to combine his love for writing and drag by creating a novel, short story, or screenplay about local drag queens in the future. He also has an obsession with sitcoms, women's pro-wrestling, and Funko Pops.