Michelle Dee comes out as bisexual; says she's more than her gender
Photo | Michelle Dee (Instagram)
Miss Universe Philippine 2023 titleholder Michelle Dee has come out as bisexual in a striking declaration about her authentic self and identity.
Mega magazine captured the reveal in an exclusive story published under its portal on Monday. In a statement during the interview, Dee admitted to her bisexuality.
"I definitely identify myself as bisexual. I've identified with that for as long as I can remember. I'm attracted to all forms of beauty, all shapes and sizes."
Meanwhile, the revelation comes a few weeks since Dee won the Miss Universe Philippines pageant after her second try. Despite the intriguing confession, the beauty queen emphasized that her individuality goes beyond the confines of gender.
Michelle Dee comes out as bisexual
Dee explained that the Miss Universe Philippines organizers advised her to speak about the matter during the competition. But because she did not want her journey due to center around her gender orientation, she insisted on the right timing.
"I joined the pageant because this is much greater than myself. I felt like coming out during the competition would shock everyone and cloud [their] judgment. I also wanted to do that within my own timeline, and it wasn't the right time."
Furthermore, Dee shared that she wants people to remember her beyond her identity. She expressed her desire to leave a lasting impact through her many potential contributions to the world and the universe.
"I'm so much more than how I identify myself. This is not about me [but] about the cause I'm fighting for, [which is ] Autism awareness. That's my main goal."
On the other hand, Dee took the chance to educate and inspire following her coming out. She encouraged her fans to be in command of their narratives.
"Own who you really are and have that self-worth and confidence to control your life. It boils down to respecting people and spreading love and light."
With rampant hatred and animosity around everyone, Dee also emphasized the need for a conscious effort to make the world better.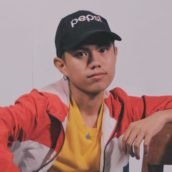 Renzneil Robles
Renzo is an introvert who prefers to do things at his own pace. Unlike most writers, he reads lazily. Watching Korean dramas at night is his constant source of comfort. Although oftentimes commended for being outspoken, he speaks better through writing than with his words.