Harry Styles' future in the Marvel Cinematic Universe has been assured by producer
Harries, rejoice! Our favorite fashionable pop star and sizzling actor Harry Styles will be returning as Starfox in the Marvel Cinematic Universe as a Marvel executive hinted at the future of his character.
On January 9, last Monday, when Marvel producer Nate Moore guested at Deadline's Crew Call podcast, he teased that there are "more stories to be told" with Styles' Starfox.
He was asked by host Anthony D'Alessandro whether fans could see more of Styles in future Marvel projects or if his appearance in the 2021 movie Eternals was just a "stunt." The producer answered laughing, "We certainly didn't cast Harry for a tag."
Moore also described Starfox as "a character maybe I have too much affection for." Also, he revealed that Eternals director Chloé Zhao pushed for Harry to get the role. He recalled,
"Chloé is a giant Harry Styles fan… I'd always pitch, like, 'Eros, he's really cool.' And she's like, 'It's Harry Styles' and I was like, 'Are you sure?' And she was obsessed and chased him down and got him into the movie."
In addition, he mentioned how exciting and and intriguing Harry's character will be as well as his relationship with the iconic purple big bad, Thanos.
"But there are more stories to be told with that character. He's fascinating. He has a really interesting connection with Thanos—they're half-brothers, and they share the same father."
See Also
Moore further described Starfox as a "complicated" but "fun" character with an "interesting power set."
"Having met Harry Styles, he is as charming as you think you want him to be. And I think there's no limit to how popular that character's gonna be once we get to bring him back," he told D'Alessandro.
In the past year, Harry has been focused on building his career on the big screen. Following his appearance in Eternals, he appeared in the movies Don't Worry Darling, directed by his now-ex-girlfriend Olivia Wilde, and the romantic drama film My Policeman.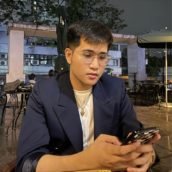 Raphael Garcia
Raphael is a person born between the generations of Millenial and Gen Z. He was produced by Cavite State University (Main Campus) with a bachelor's degree in Political Science. The lad has a fresh take on things, but can still stay true to his roots. He writes anything in Pop Culture as long as it suits his taste (if it doesn't, it's for work). He loves to wander around the cosmos and comes back with a story to publish.