CHERRY Aqua Smart TV — the first Smart TV lineup of the brand
CHERRY introduces its first TV product lineup, the CHERRY Aqua Smart TV, as part of its continued portfolio expansion.
Filipino households depend heavily on TV as an entertainment source. Today, TV has evolved from being a passive medium to a highly interactive one.
Today's smart TVs offer rich multimedia experiences. With internet connectivity and intuitive software, these TVs allow you to access apps like Netflix, YouTube, and Amazon Prime Video. You don't have to wait for the queue to fill up because you can binge-watch your favorite movies and TV shows whenever you want.
HD, Full HD, and 4K UHD resolution are readily available, allowing you to have a totally immersive experience while sitting near the television. As an added benefit, it supports home networking, allowing you to connect and control all of your devices at once.
The CHERRY Aqua Smart TV comes in three sizes and is priced well, making it a great option for home entertainment. Just decide which size will fit in your living room or bedroom for the best viewing experience.
The sweet spot selection for this model is the 55-inch model with a 4K UHD resolution and a newer Google TV operating system. It will cost no more than $29,999.
Also available are 43-inch Full HD models with 74W power output; they are priced at $19,000 and $11,999, respectively. If you would prefer a 32-inch model that has HD resolution and 60Hz refresh rate that runs on Android TV OS, those are priced at $11,999.
Upgrade your home entertainment experience with CHERRY Aqua Smart TV. Check them out at the Cherry Shop PH: www.cherryshop.com.ph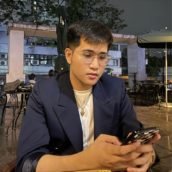 Raphael Garcia
Raphael is a person born between the generations of Millenial and Gen Z. He was produced by Cavite State University (Main Campus) with a bachelor's degree in Political Science. The lad has a fresh take on things, but can still stay true to his roots. He writes anything in Pop Culture as long as it suits his taste (if it doesn't, it's for work). He loves to wander around the cosmos and comes back with a story to publish.