Bazinga by SB19 sets new record on Billboard's Hot Trending Songs
SB19 Official
Bazinga by SB19 is officially the new record-holder of Billboard's Hot Trending Songs, outstripping the title from K-Pop legends BTS.
On January 25, the official account of the 5-piece group took to social media to share the good news and thank the fans. As penned on their Twitter handle,
"'Bazinga' is on a record-breaking 7th week at No. 1 on the @billboard #HotTrendingSongs! THANK YOU A'TIN!"

SB19 Offical tweeted
Bazinga is a track from SB19's debut EP titled 'Pagsibol,' written by the leader Pablo. The song is the group's intended message to their critics on how they turn hate into a fuel of their passion.
Through the massive dedication of A'TIN, Bazinga first topped the chart on November 26, 2021. Since then, the fandom went all out to remain consistent on the ranking.
It was an intense fight
Last January 21, a neck-to-neck rivalry took place on Twitter with ARMYs and A'TIN vying to clinch the top rank for the daily chart turnout. At that time, BTS and SB19 scored equally six times as no. 1 for Billboard's Hot Trending Songs. Hence, whoever dominates will set the new history.
On the initial results of the final cutoff, BTS' Butter and Bazinga by SB19 accumulated a total of over 8M tweets each for the 7th weekly coverage. Setting aside the spirit of competition, this is proof that fandoms demonstrate love and support for their idols beyond measure.
Now, Bazinga officially holds the record for the longest running-number 1 hit on Billboard's Hot Trending Songs. This is a win not only for SB19 but for A'TIN who was there every step of the way.
Despite the hate and challenges, this tandem continues to turn the world upside down.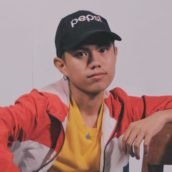 Renzneil Robles
Renzo is an introvert who prefers to do things at his own pace. Unlike most writers, he reads lazily. Watching Korean dramas at night is his constant source of comfort. Although oftentimes commended for being outspoken, he speaks better through writing than with his words.