SB19's Bazinga MV skyrockets to more than 1M views
PHOTO COURTESY: ShowBT
Fans behind SB19, dubbed as the "national treasures" and only "kings" of P-Pop, rejoiced the night of November 02 after the group's music video for their single "Bazinga" surpassed 1 million views on YouTube, just 4 days after its release.
SB19 paved the way
Also named as trailblazers of Pinoy-pop, SB19 is consistently making a mark of history while breaking their own records. Aside from the success of their E.P, "Pagsibol," they are nominees for "Best Southeast Asia Act" in the MTV European Music Awards.
This is apart from their prestigious nomination as the sole Filipino act to compete for the Billboard Music Awards' Top Social Artist of 2021.
On Tuesday, the group has yet reached another milestone as their Bazinga music video hit more than 1 million views. In addition, the achievement timely called for a double celebration with A'TIN (SB19 fandom) marking their second anniversary.
"Don't you see, don't you see? This is my legacy, legacy!"
Above is a powerful excerpt from the fourth track of SB19's Pagsibol E.P. The song "Bazinga" is a fellow hit along "What?" and "MAPA," which are all charting and high-selling tracks.
SB19 leader Pablo is a fan of the American sitcom The Big Bang Theory, which inspired the song's title. Such as the catchphrase means to interject a personal win, the group sends "Bazinga" as a message to their critics.
Looking back, SB19 went viral in September 2019 as the first Filipino boy group trained as idols by a Korean company. If not cheap branded as "K-pop copycats," the group's road to stardom was hampered by critics' denial of their success.
While their bashers probably remained lowly, the Pinoy pop group soared high.
Now far from being gainsaid, SB19 is regarded as the biggest and most successful P-pop group in the country. With all-over-the-place huge recognition both in local and global setting, they are certainly our land's honor, the nation's treasures.
Tested by trials but they fought hard. Living up to their "Bazinga," SB19 indeed wins.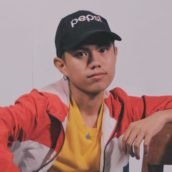 Renzneil Robles
Renzo is an introvert who prefers to do things at his own pace. Unlike most writers, he reads lazily. Watching Korean dramas at night is his constant source of comfort. Although oftentimes commended for being outspoken, he speaks better through writing than with his words.